No more typing on Facebook messenger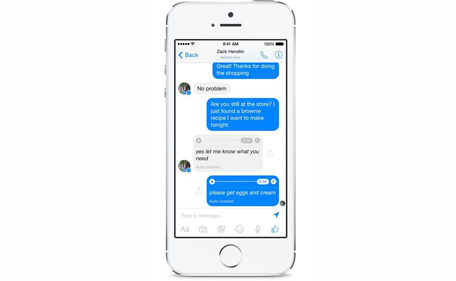 Facebook has announced that it is rolling out a new feature on its messenger app that will enable users to send a message without even typing a word.

What's more, an incoming voice message can also be converted into text if you don't want to listen to the message.

In a post on his Facebook page on January 16, David Marcus, Vice-President of Messaging at Facebook, said: "We're always working on ways to make Messenger more useful. As many of you know, we already offer a feature that enables people to send voice clips to their friends without having to type out text. Today we begin to roll out a small test that helps people read the voice clips they receive instead of having to play them out loud."

"So, for example, if you're at a concert or in a meeting, and would prefer to read a voice clip from a friend, you now can if you're part of the small test we're rolling out," it added.

Once the testing is done, Facebook plans to roll out the feature en masse.

Meanwhile Google last week announced an initiative where it will allow users to get translations in real time of a spoken language.

Currently Google translator can translate text from more than 90 different languages. The Google translator app for mobile devices enables a user to get the features on the move.

According to a report by 'New York Times', Google is expected to soon make an announcement about the new added real time voice translation.

Microsoft had launched a similar project recently which enables two users speaking Spanish and English communicate with each other on Skype.

Microsoft's Skype translator gives a user the ability to speak another language without learning one. The software will be able to recognize the voice from the first user, translate it into a predetermined language set by the second user. An on-screen transcript of your call is also displayed.

Translator is currently available in English and Spanish and Microsoft has promised to add more languages soon.



Currently Microsoft is allowing users to test the Skype translator preview. Users can register and choose one among either Chinese, Arabic, French, German, Italian, Japanese, Russian, Korean or any other language of your choice.

"Skype Translator is a brand-new experience from Skype, and it's still learning and improving the way it translates calls. As a preview user of Skype Translator you'll be instrumental in helping us refine technology and bring us closer to our goal of overcoming language barriers worldwide…" says the note to those interested in registering for the Preview.

Follow Emirates 24|7 on Google News.