PlayStation network down: Lizard Squad attack?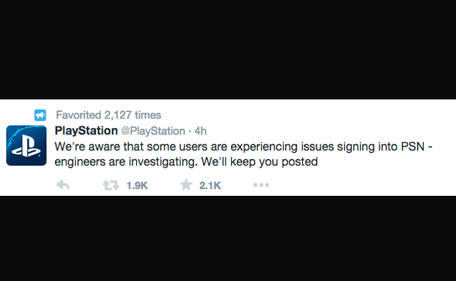 PlayStation network has gone down once again and this time leading to frustrated users threatening to move over to rival Xbox One.

Twitter is full of complaints from users about the network being down and a tweet from the official PlayStation account has confirmed the same.

"We're aware that some users are experiencing issues signing into PSN – engineers are investigating. We'll keep you posted," the tweet said.

The gaming community is once again suspecting hacker group Lizard Squad to be behind the attack. The group was responsible for a similar DDOS attack on both PlayStation and rival Xbox Live earlier.

"PSN should be free... the system is down every 2 days!!!!!!!!," tweeted LaDaniel Marshall.

"I honestly think I'm going to get a Xbox One...I'm tired of Playstation network always being down," said another one by Jevoris Blackwell.

"Why do we pay for Plus when there are so many times we cannot get online? Refund?!" said yet another tweet.

The network allows users to connect to the internet and play games online, the most popular way to use the latest edition of PlayStation.

Sony last week announced that it would club music streaming called PlayStation Music along with the PlayStation network.

The service in co-ordination with Spotify will replace the earlier Music Unlimited. Sony had also announced that it would give a 30-day free access to the currently active subscribers.
Follow Emirates 24|7 on Google News.