Rent-a-gadget: Dubai firms offering iPads, laptops, LCDs on rent in UAE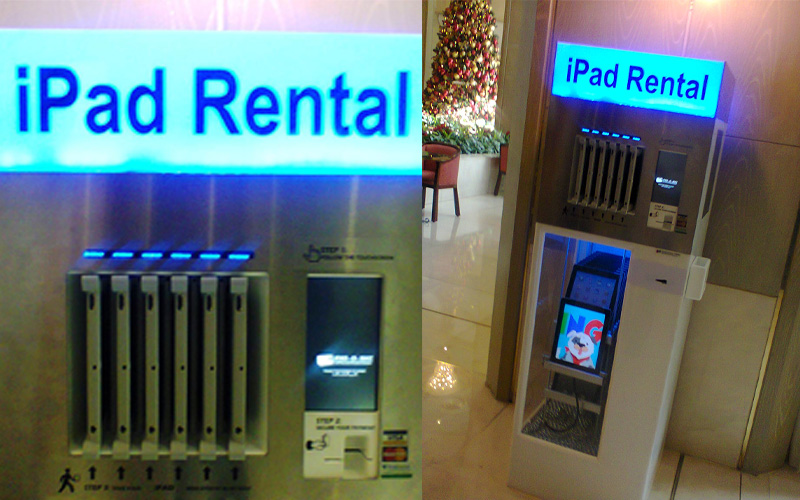 With electronic gadgets becoming obsolete within no time, thanks to fast changing technologies and launch of new models one after the other, companies are increasingly turning to rent-a-gadget in Dubai.
Many Dubai companies have put up vending machines in malls and hotels to rent tablets, laptops and other devices for tourists who arere visiting the emirate to attend business meetings and exhibitions.
Dubai-based Tablet Office & Electronic Equipment Rental LLC is offering iPads through its iPad4Rentals vending machines installed in a number of hotels and malls in the emirate.
"The vending machine in the Crown Plaza Hotel, Dubai, is doing very well as many tourists and short-term business users take it from the vending machines after paying the per hour rental, which is Dh20. A number of devices have been placed in a single vending machine and the rent is paid through credit card," an official said.
The company's website says rentals start from Dh40 per day and the devices are insured.
The vending machines are user-friendly and customers just follow the instructions as they can take more than one device on rent through the machines.
"Visitors are taking gadgets for their children to watch movies, play games or for other entertainment purposes. The machine is rented only to people aged above 21 and parents have to take the device on rent for their children."
The device is either given through vending machines or can also be couriered to the customers. The gadgets can be taken out of the UAE also after written permission. And the rental payment is accepted through credit and debit cards – MasterCard, Visa, Visa Debit and Electron and Cash payments on delivery. A free courier service is available for customers in Dubai. In the case the customer loses the device, he/she will have to pay for it.
"Vending machines are attracting many tourists who visit our hotel. Instead of carrying all electronic gadgets they take an iPad on rent by paying Dh40 per day or so and the rent will go down, if the customer takes it for more period," the official said.
Another company offering devices on rent in Dubai is Gulf Display Systems.
"We have a number of customers who are visiting Dubai for exhibitions. Instead of carrying their own gadgets, they just come for a week and pay Dh99 per day or Dh399 per week for an iPad 2. The rental rate for the new iPad is a bit higher at Dh149 per day and Dh 499 per week," says the salesgirl of Gulf Display Systems.
She said in addition to iPads, the company is also renting other electronic gadgets such as laptops, printers, LCDs and projectors to companies and businessmen. She said business visitors who prefer to keep their baggage to the minimum may have to buy new iPad for their regular use, but companies are offering an option to rent the same for one day to one year.
Dubai-based Eventware is also approaching business customers who are in need of such devices for short-term events like trade exhibitions.
"Our iPad rental programme offers clients flexibility to take advantage of the latest technology while only paying for its use," says the advertisement of Eventware.
An analyst said the rentals are a bit on the higher side. "Instead of paying rent for one month, I can better buy my own iPad. If a person can afford to pay Dh149 per day, he can very well buy a new gadget instead of going for a rental," he said.
Follow Emirates 24|7 on Google News.