Revealed: Samsung's 100-year goal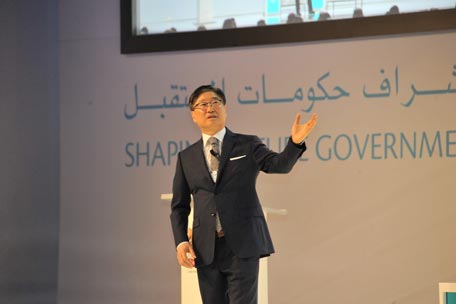 Samsung Electronics' President and CEO BK Yoon, who is in Dubai for The Government Summit 2015, has revealed the secret sauce that drives innovation and inspires best practices at the South Korean firm.
The head of one of the world's largest and most successful electronics firm, Yoon outlined Samsung's innovation strategy and its vision for the future in a speech that he delivered at the Government Summit in Dubai.
Yoon shared the three secret ingredients of his 3P success strategy – Product, Process and People – and explained how these three pillars have shaped the history of Samsung's innovation.
During his presentation, Yoon said that Samsung has set a 100-year-goal rather than a quarter-to-quarter or year-to-year growth strategy. "Our vision has been to look 100 years into the future and accordingly activate scale and competitiveness with the ultimate goal of being a long-term industry leader."
He also outlined four mega trends: mobility, urbanisation, aging and new threats like climate change, that are changing everything as we know it – from how we live and work to how we organise societies and governments.
"We don't see things as challenges," Yoon said. "We see them as opportunities, and we never stop innovating. Our innovation is rooted in a very purposeful approach based on product, process and people. To create the best products, we need the best process, and to create the best process, we need the best people," he said.
Yoon recounted the tough days as Samsung worked on making changes to the TV industry with the super-thin LED television. "During those days, I learnt that the only way to get ahead is to leave all the existing technology and thinking behind and to reset the rules of the game."
Highlighting the success the company achieved in smartphones, television and refrigerators, he said that every second, 20 Samsung devices are placed in the hands of customers, bringing them into the innovation-powered tech-universe. Yoon added that nearly 665 million Samsung devices were sold in 2014.
The Government Summit in Dubai convenes thousands of the world's foremost leaders in the public sector to share and discuss best practices from around the world. As
In his speech, Yoon explained that technology is key to dealing with these mega-trends, especially with the rapidly emerging concept of the Internet of Things (IoT).
By embedding sensors, smart components, and enhanced connectivity into everyday objects, and using Big Data analytics to understand and act on the information they generate, IoT holds infinite possibilities to provide solutions that make our lives healthier, and more comfortable and secure.
He said that the future of Samsung will be underlined by its adoption of the Internet of Things, adding that by 2020, 100 per cent of its devices will be IoT-enabled, and called for an open ecosystem to leverage the transformational potential of IoT.
"In order for IoT to succeed, it must be developed around people's needs, and it must be built on an open ecosystem," Yoon said. "Above all, the support from governments, and collaboration among governments and the private sector is critical to unlocking the infinite possibilities of the IoT."
Follow Emirates 24|7 on Google News.