Samsung Galaxy Note5, S6 Edge+: 6 killer features, 1 fatal flaw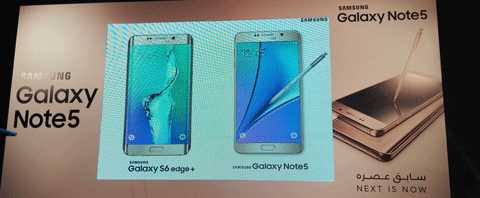 During a media meet in Dubai, Samsung Electronics took the veils off its flagship Galaxy Note5 and the Galaxy S6 edge+ for the GCC on Tuesday.
The devices will be available in the local market starting August 28 even as Hayssam Yassine, Head of the IM Division at Samsung Gulf Electronics, told Emirates 24|7 that he expects some retailers to start selling the phablets earlier, depending on how soon they can put the phablets in their customers' hands.
"The official availability is August 28, but we may be selling it earlier through the channel if the market readiness is there," said Yassine.
"My guess is that if they're ready and have stocks, some retailers may start selling it in the next three-four days."
In the UAE, the Galaxy Note5 32GB will sell for Dh2,799 and the Galaxy S6 edge+ 32GB will be available for Dh3,099.
The Galaxy S6 edge+ 64GB version (not available immediately in the region) will retail for Dh3,399.
In continuing with the switch to metal that Samsung made earlier this year with the launch of the Galaxy S6 and the S6 Edge, both the new devices are crafted by blending metal and glass.
However, Samsung decided to go big with the displays this time around, bringing out 5.7-inch screens for both the new phablets.
"When we first introduced the big-screen format with the stylus three years ago, people thought we were crazy to do so," said Yassine.
"But we've been proven right, and today you can see everybody is bringing large screens to the market," he said, perhaps taking a dig at the large-screen iPhone 6 which its rival Apple Inc. launched last year despite its founder Steve Jobs once famously saying that "You can't get your hand around [a device with a screen bigger than 3.5 inches]."
Jobs said: "No one's going to buy that" and went on to deride big phones as "Hummers".
Well, it seems that those phablet Hummers are here to stay, and will be driving the mobile segment's growth for the next few quarters at least.
Asked about Samsung's recent profit decline, Yassine acknowledged that while the company has lost some revenue as per the latest global results, it remains strong regionally.
"Locally, we're back at No. 1 according to GfK statistics," he says, "with a 48 per cent share of the UAE's smartphone market."
Yassine maintains that "while the market fluctuates on a monthly basis, what matters is the trend, and the trend is that we're growing handsomely." He added: "We hope that these new products will give us additional room to grow."
Samsung is indeed banking on the success of the new flagship devices as it maintains that it faces "mounting challenges" during the second half of the year.
Read: Galaxy S6, S6 Edge price cut as Apple readies iPhone 7 launch
But Samsung has managed to include some 'killer' features to counter the runaway success of iPhone 6 and iPhone 6 Plus, as well as a bevy of devices from other rivals, we believe there is one flaw that may prove to be a drag on sales.
First, the killer features
#1 New, improved S-Pen
As Aladdin Hijazi, Samsung Gulf Electronics' IM Training Manager, puts it, the new S-Pen comes with an "addictive new feature".
It boasts a push and pull mechanism, akin to a regular retractable pen. You'd need to push the S-Pen for it to eject, and then you can pull it out.
It isn't just the mechanism that's new to the Note5. The Note5 now supports what Samsung calls is a 'blank screen memo' – when in a hurry, you may start scribbling notes with the S-Pen on the Note5 screen even when it is in the sleep mode, and the screen will instantly come alive and you'll have the note displayed on it.
In addition, the S-Pen allows 'scroll capture,' or a vertical panorama shot of the complete webpage.
Until now, we can capture images one screenshot at a time, and if we needed more than what can be displayed on a mobile screen, we'd need to take multiple screen shots.
With a new feature in the Note5, the S-Pen allows you to capture multiple screens in one shot. It also allows annotating on the screens.
#2 Faster wireless charging
"We've taken charging abilities to the next level with these devices," says Hijazi. The Note5 and Galaxy S6 edge+ feature Samsung's fast wired and wireless charging technology, he says.
The embedded wireless charging technology is compatible with virtually any wireless pad available today, he maintains, adding that the devices go from 0 to 100 per cent charge in 90 minutes through a wired charger and in 90 minutes through Samsung's latest wireless charger.
#3 Ultra-Slim design
From a distance, the Note 5 looks similar to the Note 4, but the design has subtle improvements that go a long way in making it handier and enhancing ease-of-use while being handled 'single-handedly'.
The biggest change of course is the use of metal which immediately ticks all the boxes in the 'premium' category.
The rear panel of the Note5 has curved glass, tapered edges which makes it easier to hold in one hand, says Hijazi.
The Galaxy S6 Edge+ has the same contours, and with the edgy sides, it is even easier to hold than the Note5 despite both of them having the same 5.7-inch screen size.
"When we designed the first Galaxy Note four years ago, we gave portability and productivity to the consumer, and redefined the mobile industry in the process.
"By making the display larger and redesigning the stylus, we got rid of some hard-worn crutches of the mobile industry, and developed a device that actively addressed some major pain points for consumers," said Yassine.
#4 More power to processor
Both the S6 edge+ and the Note5 come loaded with a powerful processor which Samsung claims gives a much faster response time than Note4.
The devices boast an octacore (2.1GHz Quad + 1.5GHz Quad), 64-bit, 14nm Exynos 7420 processor, which should allow users to open multiple tabs without any issues, the firm says.
In addition, both phablets come loaded with an increased 4GB RAM, allowing multi-tasking, social browsing and graphic-heavy gaming without compromising on the speed or suffering lag time, it notes.
#5 Virtually viral videos
Samsung has paired up with YouTube to offer instant video sharing through its 'live broadcast' feature.
Both the Note5 and the S6 edge+ feature 4K video filming and Live Broadcast, which let users instantly live-stream full HD video straight from their phone to any individual, group of contacts, or even the public through YouTube Live.
"Anyone who receives the YouTube link from a Note5 or Galaxy S6 edge+ user is able to enjoy live stream video from his or her smartphone, tablet, PC or Smart TV with YouTube connectivity," says Hijazi.
In addition, the devices come with a 'steady video' feature for both front and rear cameras, providing image stabilisation for on-the-go videos.
A 'Video Collage Mode' allows users to record and edit short videos easily in various frames and effects, and you can stitch together up to four videos of varying speed in the same display.
Samsung has also incorporated other usable camera features like 'Quick Launch' (double click the home button to launch the camera within 0.6 seconds), 'Auto Real-time High Dynamic Range (HDR),' and 'Smart Optical Image Stabilisation (OIS)' and new filters.
#6 SideSync Support
Samsung's latest devices are upgraded to support SideSync, which offers both wireless and wired PC-smartphone integration for connections across devices.
With auto-detection, Windows PC and even MacBook users can instantly access files and data from their Samsung phablets, and vice-versa.
The feature also allows users to respond to text messages and even field phone calls from their computers.
With this, we come to what we see as a major flaw in the devices.
Where's the memory, dude?
Both the Note5 and the S6 edge+ are globally available in 32GB and 64GB variants, with no option for the 128GB mommy memory mobile.
With apps and games becoming heavier, not to mention the fact that the Note5 is, essentially, a productivity device targeted at business users, memory is critical.
The devices also don't have any slot for additional SD storage which could have come handy once a user runs out of the initial allotted space.
To make matters even worse, the Note5 will be available in the region in only the 32GB avatar – no 64GB version for us.
"We found a lot of people in the region using cloud storage and 32GB is good enough for a majority of our potential customers in the region," responds Yassine.
Now, a business user, by definition, may need space to store quite a bit of confidential or sensitive data locally, and we're not convinced 32GB will be 'good enough' for such users.
Still, that's a call that Samsung has taken for now, but it doesn't have to be set in stone.
As Yassine acknowledges, "64GB is available globally – we might bring it here later."
Another minor issue is that of the smaller battery. Both the devices come with a 3,000 mAh battery, which is a step down from the 3,220 mAh battery on the Note4. Yassine, however, believes this to be a non-issue.
"We have the power banks today, and there are wireless power banks now," he states. "We also have the fast charging covers now which solve the problem for heavy users," he states.
In the end, as with everything else in the market, it will be you, the user, who'll decide the fate of these devices.
Follow Emirates 24|7 on Google News.