Samsung Galaxy S7, S7 Edge in UAE: How to get Gear VR free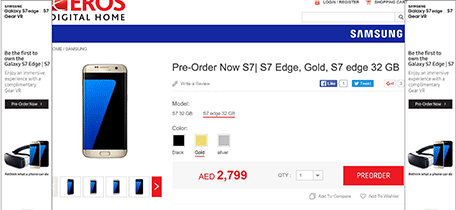 Samsung Gulf Electronics has started the pre-order campaign for the new Galaxy S7 edge / S7 for UAE residents.
In a statement, the firm said that those who pre-order the latest Galaxy smartphone will also receive a complimentary Gear VR.
In the UAE, prices of Galaxy S7 start at Dh2,399 while that of the S7 edge start at Dh2,799.
Samsung usually runs a pre-order campaign and offers a small discount on the spearhead devices to customers who are willing to be the first ones to own its new Galaxy devices. This year, the incentive is a free Gear VR, which usually costs more than Dh400 in the UAE.
To sweeten the deal, Samsung will also be throwing in six virtual reality games with the headset. The offer is valid with a two-year contract, a device installment plan, a leasing plan or when you purchase the phone outright at full retail price.
The free Gear VR is being offered on a limited-time basis to UAE residents who pre-order the Galaxy S7 edge or S7 before February 29, 2016, the firm said.
"This pre-order offer is valid for a limited time only and is powered by erosdigitalhome.ae," the firm says. Eros is the official distributor of Samsung smartphones in the UAE.

Samsung's new devices will both sport an always-on display, which means users can get information at a glance without waking up their phones.
The always-on display is also smart, says Samsung, which means that it'll automatically disable when the phone is in your pocket or bag, or when it's face down, or when the battery is running low.
Samsung's new Galaxy S7 is equipped with a 5.1-inch display touting a 2,560x1,440-pixel resolution and a 12MP camera. The latest Galaxy smartphone is powered by a quad-core Snapdragon 820 processor with 4GB of RAM and comes with either 32GB or 64GB of storage, along with a 3,000mAh battery. The UAE pre-orders, though, are only for the 32GB variant.
The Galaxy S7 Edge adds a larger 5.5-inch display with curved edges and 3,600mAh battery. UAE pre-orders for the S7 edge too are limited to the 32GB variant.
Follow Emirates 24|7 on Google News.