Samsung Galaxy S7 UAE pre-orders: Get the edge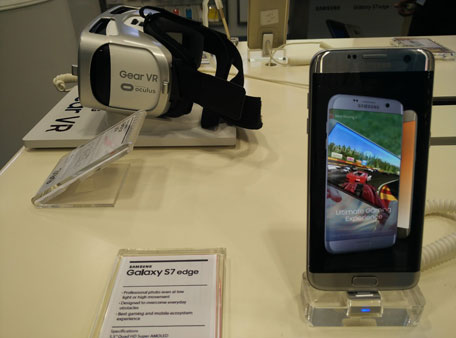 Select stores in Dubai have extended Samsung's pre-order of the Galaxy S7 and S7 edge.
While Samsung had allowed users to pre-order ahead of the initial launch until February 29, select stores in the UAE are continuing to take orders.
However, users who pre-order now (after February 29) are not be eligible for the free Gear VR, which Samsung had promised along with its flagship devices.
While Sharaf DG and Jumbo Electronics were among stores that were still accepting Galaxy S7 and S7 edge pre-orders, many other stores including Emax said they had stopped taking -pre-orders as early as Saturday (February 27).
A sales staff at Jumbo told Emirates 24|7 that customers could still pre-book their devices by paying Dh200. "However, the delivery will not come in time along with the earlier batch. It would go beyond March 10," he said.
"Our online orders are closed. But, we are taking orders at stores," he added.
"Although we are yet to receive stocks, except for the ones on display, we ran out of our stipulated quota on Saturday itself.
"However, we still took some orders from customers until yesterday (February29)," said a staff at Emax.
The Galaxy S7 could be pre-ordered for Dh2,499 while the Galaxy S7 edge could be pre-ordered for Dh2,799.
Samsung had announced that those who pre-order the latest Galaxy smartphone will not only be among the first to own the latest Galaxy, they will also receive a complimentary Gear VR worth Dh399.
Meanwhile, several online stores too are taking orders for Galaxy S7 and S7 edge.
Axiom is one of the stores where online pre-orders are still open.
Interestingly, some stores have dropped the prices of a few older models.
At Emax, for example, a 32GB Galaxy S6 edge plus, which used to be priced at Dh3,099 is now priced at Dh2,599, a discount of Dh500.
The 5.7-inch device with curved edges on both sides is still selling at Lulu for Dh3,099, which is more than the price of the Galaxy S7 edge.
Follow Emirates 24|7 on Google News.