Samsung unveils Galaxy S7, S7 Edge with expandable memory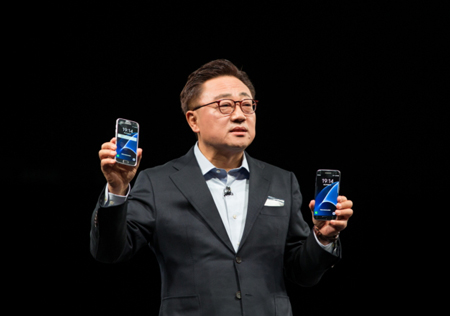 Samsung unveiled its two new flagship smartphones, the Galaxy S7 and Galaxy S7 Edge, which it hopes will once again be able to guide it to the next level, both in terms of sales and a showcase of its innovative abilities.
The Galaxy S7 and S7 Edge will come with new features such as an improved camera, a more handy design, an improvised battery and enhanced performance.
The devices are expected to be priced anywhere between Dh2,400 to Dh3,200 and will start pre-orders on February 23 and eventually go on sale starting March 11.
The iPhone 6s launch price in the grey market was Dh3,000 in UAE, before going for Dh2,699, last year.
Users of Galaxy S6 or the S6 edge will not find any significant changes in the new devices, except for an improvised camera and a revamped user experience.
Announcing the new features D J Koh, President of Mobile Communications Business, Samsung Electronics, said every new galaxy smartphone that Samsung has launched demonstrates what a phone can do and what a smartphone can be.
"We empower consumers with technology to help them get more out of life and will continue to push the frontier of what's possible," he said.
Justin Denison, Senior VP Product and Strategy, pointed out to how the new devices will come with what could be termed as the "first Dual Pixel camera on a smartphone", delivering brighter and sharper images in low light.
According to Samsung, Dual Pixel technology, which is utilised in selective, high-end DSLR camera models, sends light from the lens to two image sensors separately to adjust the focus, much in the same way that the human eye does.
For comparison, only about one per cent of image sensor pixels of the Galaxy S6 were capable of recognising phase and contrast, while 100 per cent of the image pixels of the new device can do so.
"Thanks to the revolutionary Dual Pixel technology, brighter lens with wider aperture, and bigger pixel, the camera has a faster shutter speed and a more accurate autofocus even in low-light conditions," says Denison.
He compared the pictures and auto focus capabilities of the new Galaxy S7 and the S7 Edge along with that of the iPhone 6S.
Dual Pixel image sensor
The advantage of the Dual Pixel image sensor will be most evident when taking pictures in a low-light environment.
The camera on Galaxy S7 and S7 Edge is equipped with 1.4um pixels (a 56 per cent increase in size compared to the Galaxy S6) and a large F1.7 aperture (which allows for 25 per cent more brightness).
Combined, these features enable for 95 per cent more light compared to its predecessor, which subsequently results in a much brighter and sharper image.
Further, the new model employs autofocusing at considerably faster speeds, allowing for faster shooting.
The new camera is equipped with a new camera mode called Motion Panorama, that allows taking 360 degrees panoramic pictures that can be easily viewed using the VR headset.
In terms of design both devices – the 5.1-inch Galaxy S7 and 5.5-inch Galaxy S7 edge are built using glass and metal.
The devices retail majority of the Galaxy S6 and the S6 Edge features except for a more curvier back thereby creating a comfortable grip. Both the devices have increased utility with IP68 water and dust resistance.

Most importantly Samsung has decided to put back the SD card slot back into the Galaxy S7 and S7 edge after having removed them from the S6 and the S6 Edge.
The hybrid SIM card tray allows users to insert a microSD card for up to 200GB of additional storage and in some select countries, the tray can be used with a dual SIM card.
Samsung also announced significant hardware and software updates in its efforts to better the performance on Galaxy S7 and Galaxy S7 edge.
Both devices are powered by 2.15GHz quad-core 64 bit Snapdragon 820 processor, 32GB of storage and 4GB of LPDDR4 RAM.
The phone includes an Always on feature which allows the reading of notifications without having to power on the device first.
While the Galaxy S7 will come with a 3000mAh battery, the Galaxy S7 edge will come with a 3600mAh battery.
Gear 360 video camera
Along with the flagship devices Samsung also unveiled a 360 degree video camera, specifically meant to capture videos for the VR headset and the oculus.
The Gear 360 is equipped with dual fisheye lenses, which both have 15 megapixel image sensors, and will enable users to take high-resolution (3840 × 1920) 360-degree video that also supports 30 megapixel still images.
Users are also able to shoot 180-degree wide angle video and images by using just one side of the camera lens. According to Samsung Gear 360's F2.0, creates high resolution images even in low-light conditions, where users can create full panoramic videos.
It easily syncs with a Samsung smartphone enabling users to preview content in real time when recording. Also, Gear 360 will automatically bring up filmed content for users to view and save on their smartphone or to upload and share directly on social channels including Google Street View.
For a real 360 viewing experience, users can simply watch self-created content through Gear VR.
All these features will be available through a dedicated mobile application for download from Galaxy Apps, Google Play and PC software for more in-depth editing capabilities.
Gear 360 is compatible with select Samsung smartphones including the newly released Galaxy S7 and Galaxy S7 edge, Galaxy S6 edge +, Galaxy Note 5, Galaxy S6 edge and Galaxy S6.
Gear 360 will be available starting Q2 2016 in select countries.
The presentation started off a little after 10pm (UAE time) and the attendees were each given a VR headset. The opening video was shot in 360 degree camera.
D J Koh first came to stage and explained about how during the past 30 years with Samsung how he had learnt to be responsible for thousands and millions of loyal Samsung customers.
Zuckerberg - show stopper
Facebook's Mark Zuckerberg was the show stopper for the evening. He emerged on the stage from nowhere and took the audience by surprise. He was there to emphasise on a new relationship with Samsung where the phone maker would provide the hardware support for VR devices whereas Facebook will facilitate the sue of its platform.
"Virtual reality is already something people can touch and feel with the Samsung Gear VR, powered by Oculus, which is in stores now. Gear VR is the best mobile VR experience in the world because it combines the leading VR software, built by Facebook's Oculus team, with world-class mobile hardware, built by Samsung.
"Since Gear VR launched in November 2015, the response has been incredibly strong: More than 200 games and apps are now available for the platform in the Oculus store, and people have already watched more than a million hours of video in Gear VR," he said.
Facebook he said will revolutionise the way VR content is delivered.
"Our powerful dynamic streaming technology for 360 video is coming to Gear VR. It's a more efficient way of delivering 360 videos, showing only the pixels you're actually looking at in the highest quality, instead of delivering the entire 360 video in high resolution," he said.
"To make this work, we create dozens of variants for every 360 video that gets uploaded to Facebook, each tailored to a specific viewing angle, and then as you watch the video, we rapidly adjust which variant we display based on where you're looking.
"By doing this, we've quadrupled the resolution quality of 360 streaming video in VR by reducing the amount of required network bandwidth by 4x — so videos look clearer and play faster. We're excited to bring this to Gear VR in the next few weeks," he explained.
Follow Emirates 24|7 on Google News.