Six contestants enter final round of 'UAE Drones for Good Award'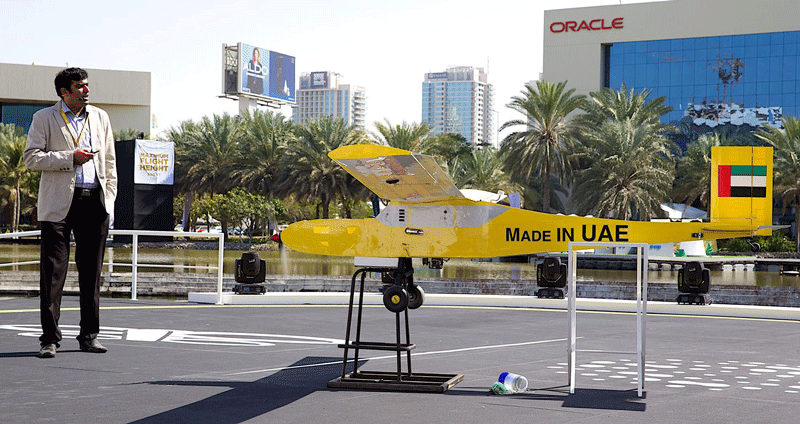 'The UAE Drones for Good Award' has announced that three contestants each from the International and National competitions of the award have qualified to the final round of the award as 20 semi-finalists demonstrated their projects live in front of a panel of high profile international judges at a specially organised event in Dubai Internet City today.
The award, launched by His Highness Sheikh Mohammed bin Rashid Al Maktoum, Vice-President and Prime Minister of the UAE and Ruler of Dubai, aims to employ civilian applications of Unmanned Aerial Vehicles (UAV) technology for improving people's lives.
The three finalists in the International Competition are Loon Copter's multi-rotor drone (USA); 4Front Robotics' USAR Robot drones (Canada); and SenseLab's SaveME drone (Greece).
The three finalists in the National Competition are Buildrone's construction and repair aerial robot drone, ReefRover's drone for studying underwater ecosystems; and FlyLab's drone aimed at the education sector.
Speaking on the occasion, Saif Al Aleeli, Chief Executive Officer of Dubai Museum of the Future Foundation and Coordinator General of the UAE Drones for Good Award, said: "Innovation is a key factor in building the future and using technology in the service of humanity, especially considering the increasing demand for efficient services in various sectors. The second UAE Drones for Good Award has become a major platform to host global innovators and launch the latest technological projects and innovations that offer services to improve the lives of human beings, and find solutions to some of the most critical issues facing the world today."
Al Aleeli added: "The drones sector is certainly in its early stages but we are confident that it will evolve in the coming years as a major contributor to the world economy."
Loon Copter from the US scored 82.25 per cent with its novel multi-rotor platform that is capable of aerial flight, on-water surface operation, as well as diving. The drone system combines into one vehicle the capabilities of traditional reconnaissance aircraft, watercraft and submarines, and can be employed for surveying, search, and rescue missions.
4Front Robotics from Canada scored 81 per cent with its highly maneuverable USAR robot drones that can locate and rescue persons from buildings on fire, collapsed building, mines, or other urban and industrial entrapments. These drones have the capability to fly and navigate in highly confined spaces, and provide high resolution data in a matter of hours.
SenseLab from Greece scored 80.38 per cent with its SaveME project that makes use of a smart phone that transforms into a drone to support people in emergency health conditions, especially those in situations when people are trapped, lost or wounded and in urgent need of assistance.
Buildrone team scored 91.38 per cent with its construction and repair aerial robot that detects damages and carries out repair tasks in hard-to-access environments. To carry out a repair, such as a leak in a pipeline, or a cracked road surface, or a leaking roof tile, the robot flies close to the damaged area and deposits a sealant material.
ReefRover team scored 74.63 per cent with its drone that is capable of providing marine biology researchers, environmental monitoring agencies and science enthusiasts with new tools to effectively map, explore and study near-shore underwater ecosystems. The ReefRover drone can help increase the rate of coral reef data collection and better organize the data to make it more useful for research.
FlyLab team scored 74.25 per cent with their drone that can contribute to the education sector by providing an innovative, low-cost and easy-to-use solution to achieve a shift in the way science, mathematics and other subjects are currently being taught at schools.
The finals of the second edition of the biggest award in civilian application of drone technology will be held on Saturday February 6, 2016, at the same venue in Dubai Internet City with the winners getting to take home $1 million in prize money in the International Competition and Dh1 million in the National Competition.
'The UAE Drones for Good Award' received more than 1,000 projects from 165 countries from around the world, displaying high levels of innovation and technological development, strengthening the international position of the Award to utilize new technology to serve humanity.
Follow Emirates 24|7 on Google News.