Tablet trouble for iPad: Lenovo to snatch Apple's silver this year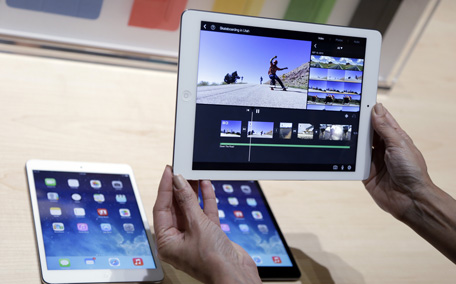 There's trouble ahead for Apple.

While its iPhone 6 and iPhone 6 Plus are bound to face stiff competition from the soon-to-be-available Samsung Galaxy S6 and the Galaxy S6 Edge, its iPad is set to lose the regional No. 2 slot this quarter to the Chinese manufacturer Lenovo, which is growing at a breakneck pace in the tablets segment.

According to latest statistics published by global advisory services firm International Data Corporation (IDC), both Android and Windows tablets saw significant annual growth in shipments even as iOS-based tablets saw a decline.

Shipments of Android tablets in the final quarter of 2014 grew 33 per cent while Windows surged a massive131 per cent, compared with the same period of 2013. Apple's iOS, on the other hand, saw an 11 per cent decline in shipments, raising red flags for the Cupertino-based tech giant's iPads.

South Korean major Samsung is well ahead in the MEA tablets race, and is on the 'gold' pedestal while 'bronze' holder Lenovo is literally stepping on the toes of Apple, which was on the 'silver' pedestal during Q4, 2014.

Samsung registered a year-on-year growth of 16 per cent in the final quarter of 2014, retaining its crown as the leading vendor in Middle East and Africa region (MEA). The South Korean giant shipped a total of 886,000 units to the region in Q4 2014, amounting to more than 9,630 units sold every day of the quarter.

Apple, on the other hand, suffering a decline of 11 per cent, barely managing to hold onto its second place in the market, with shipments totalling 580,000 units, or a little over 6,300 iPads sold every day.

"Lenovo remained in third position, but with year-on-year unit growth of 100 per cent and volumes totalling 572,000 units for the quarter [6,217 tablets sold per day], the vendor is extremely likely to overtake Apple at some point during 2015," IDC said in its report.

Asus maintained its fourth position despite shipments falling 7 per cent to 206,000 units while Turkish vendor Casper increased its shipments 80 per cent to 180,000 units on the back of strong growth in the consumer and education segments, taking the No. 5 slot in MEA.

Overall, the MEA tablet market recorded robust year-on-year growth in the final quarter of 2014, with holiday purchases and aggressive end-of-year promotions spurring a particularly strong performance in the consumer segment.

However, after registering a strong 26.1 per cent growth for the quarter, the market is set to suffer a "significant decline" as the ever-increasing size of phablets and smartphones eats into their market share.

In September last year, Apple launched its largest ever smartphone, the iPhone 6 Plus which comes with a 5.5-inch display. In comparison, the iPad mini has a 7.9-inch display, with the thin iPhone 6 Plus phablet coming close offering a similar experience.

That may also be one of reasons why iPad sales are slowing down even as the iPhone 6 and iPhone 6 Plus continues to sell in record numbers.

Nevertheless, the entire MEA tablets market and not just Apple's iPads are expected to hit a roadblock in the coming months. "Moving forward, the MEA tablet market is expected to see a significant slowdown in growth," says Fouad Charakla, a research manager at IDC Middle East, Africa, and Turkey.

"This has become particularly evident since the start of the new year, with the MEA market set to experience its first ever quarter-on-quarter decline in Q1 2015 amid intensifying competition from smartphones and phablets," he says.

Latest IDC figures show that the overall MEA tablet market grew 26.1 per cent year-on-year in Q4 2014 to total 4.43 million units, with the activities of several Far East manufacturers spurring significant annual growth in shipments of Android and Windows tablets.

"The telco channel experienced its highest ever rate of growth during the final quarter of 2014," says Victoria Mendes, a research analyst at IDC Middle East, Africa, and Turkey.

"There are a couple of reasons behind this growth – in South Africa, Vodacom, one of the biggest telecom operators in the country, introduced its own tablet and shipped approximately 170,000 units during the quarter, while in Turkey, local vendor Casper shipped around 100,000 tablets through the telco channel," she said.

"Nevertheless, the MEA tablet market is still forecast to post double-digit growth for 2015 as a whole, while other regions around the world will experience much bigger slowdowns or even declines. The consumer segment will remain the major contributor to this growth, but we also expect to see a huge contribution from the commercial segment in 2015, with education deals being a major driver," Charakla concludes.
Follow Emirates 24|7 on Google News.