Transparent iPhone 6 confirmed by Apple Inc.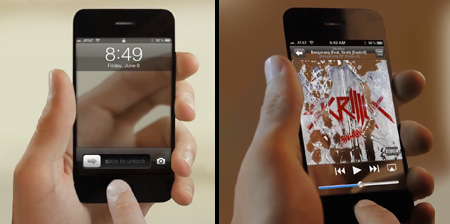 It's official (or as official as it gets with Apple). The Cupertino-based tech giant will release a transparent iPhone 6 that might have a transparent glass display on both sides, giving the user the choice of rendering the content in one seamless continuous presentation across the device, or in two individual displays.
Even as rumours about a transparent iPhone 6 (read: iPhone 6 rumours: Transparent, scratch-free screen… features to kill Galaxy S4?) refuse to die down, official details of a 'wraparound display' have been revealed, making the iPhone 6 as futuristic in looks as it gets.
In fact, with one masterstroke, Apple will be doubling the screen size of the upcoming iPhone 6 to about 10 inches without losing the handheld functionality. Now that's the kind of genius innovation we expect from Apple, not incremental additional centimetres to the existing screen.
If this indeed comes true, it – and mark our words – will be the biggest thing to happen to iPhone since the iPhone. In fact, gauging by customer anticipation and response, it may well be the biggest thing to happen to Apple since Apple.
Here are the details.
Last week, on March 27, 2013, the US Patent & Trademark Office (USPTO) published a patent application from Apple that reveals a future iPhone with a wraparound display so that both sides of this smartphone will be able to display content, either individually or as one continuous display.
According to information and images published by Patently Apple, the wraparound display will also apply to Apple's possible future wristband communication device, or the much-awaited iWatch, details of which were revealed in February.
Flexible, transparent display
As described in the patent information, the latest iPhone could indeed sport a flexible wraparound display that could be fashioned in aluminium, aluminium and glass, or a fully transparent design.
Fully transparent? Yes, that's what we've been talking about, baby.
According to its patent, Apple states that the design could also be fully formed of transparent (or at least semi-transparent) material such as glass.
Indeed, features will include not just a transparent screen, but a flexible one too – and one that will allow you to scribble notes on it with an ordinary pen, pencil, or your fingernails. Now that'll be something, ain't it?
Apple states that one of the advantages of using a polyimide substrate is that the AMOLED display screen can be heated that allows the AMOLED display screen to be configured into any number of shapes.
Moreover, once the heat is removed, the AMOLED display will then 'remember' the original shape even if temporarily rolled up or flattened out. In this way, by heating AMOLED display assembly while configured in a shape in accordance with transparent housing AMOLED display assembly easily conforms to the shape of transparent housing.
"In one embodiment, a consumer electronic product is described which includes at least a transparent housing and a flexible display assembly enclosed within the transparent housing. In the described embodiment, the flexible display assembly is configured to present visual content at any portion of the transparent housing," the recent patent further details.
Look ma, no buttons
This future iPhone design won't have any physical buttons – so controlling the audio on the iPhone will simply require you to hover your hand over the side of the display to temporarily illustrate the controls on the device's display (actually, the entire device will be the smartphone's display).
And with the entire smartphone built out of flexible, transparent glass, there will be no need – or place – for physical buttons on the device. Just virtual ones, thank you. The virtual functionality of the buttons would allow a user to hold a finger over the button, say, a volume indicator, and an action would be triggered by that simple action.
3D in a continuum
Apple states that visual content can be presented by the first flexible display out of a temporal phase with the visual content presented by second flexible display. In this way, an illusion of depth perception can be presented mimicking a 3D experience.
In effect, the new iPhone 6 could also produce 3D visuals through its unique dual display design.
Moreover, utilising a flexible display can provide additional viewing area without increasing either the size or shape of the iPhone. For example, a flexible display can be folded in such a way as to form a continuous loop such that images (still or video) can be presented in a wrap-around manner in which the images appear to be presented in a continuous loop.
This is certainly one of Apple's hottest inventions of the year. One that has the potential to sweep us off our feet. About time, Apple.
Follow Emirates 24|7 on Google News.