'Virtually indestructible' Ultrabook: Lenovo's 8-inch tablet-cum-PC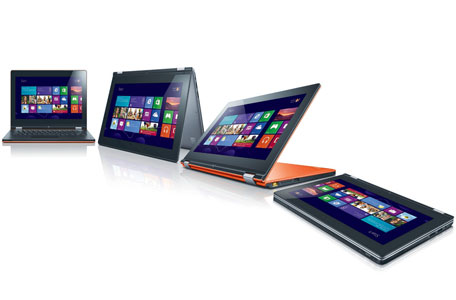 Chinese tech giant Lenovo has announced the launch of a 14-inch Ultrabook which it claims is "virtually indestructible".
The company announced 14-inch ThinkPad X1 Carbon at the ongoing Consumer Electronics Show in Las Vegas along with another unique product – The ThinkPad 8, an 8-inch tablet that actually works like a PC.
Lenovo has termed the third generation ThinkPad X1 Carbon as "the world's lightest 14-inch Ultrabook and the ThinkPad 8 as a premium 8-inch tablet offering a full PC experience on the move."
With the ThinkPad, Lenovo has introduced several new features such as the adaptive keyboard, which dynamically adjusts based on the software or application being used to highlight the most relevant keys. The new Ultrabook also integrates voice and gesture control.
While Lenovo has retained the design elements from last year's X1 Carbon, it has significantly boosted the battery life to last for almost nine hours.
Through its "Rapid Charge Technology" the laptop can be recharged for up to 80 per cent charge in under an hour.
Lenovo also introduced an additional new feature called OneLink connector that allows users to get power, Ethernet, and dual display support through a single cable.
Weighing about 1.27 kilogramme, the device is made of the same material that is used to make aircrafts and racing cars; according to Lenovo it is forged from Carbon Fiber, which weighs less than magnesium and aluminum but is stronger than both. Models of the ThinkPad X1 Carbon start at $1,299 (Dh 4,767) and will start selling from January end.
The ThinkPad 8 is probably one of the very few 8-inch devices that run Windows 8 Pro. The device apart from being used as a tablet can be easily converted into a laptop or netbook when connected to a keypad and an external display.
The device is powered with the Intel Bay Trail Quad Core processor and comes with up to 128GB of storage, a microUSB 3.0 port and LTE2 connectivity.
The tablet therefore becomes a laptop on the move. Once in office, all you need to do is connect the device to a display port through the micro HDMi port and you have a fully functional Windows PC.
The other features include an 8MP HD back camera, 1920x1200 display.
The ThinkPad 8 starts at $399 (Dh1,464) and will start selling from January end.
Follow Emirates 24|7 on Google News.