Where to get bendable smartphone in UAE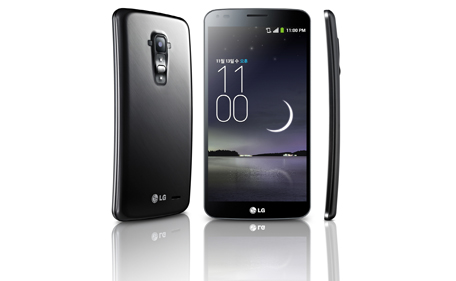 UAE telecoms provider Etisalat is giving its customers the chance to be among the first in the UAE to own the new LG G Flex (4G LTE) smartphone.

According to its media statement, the telecom major is exclusively offering customers LG's first curved and flexible display smartphone along with up to 10GB of data and 300 flexi minutes that could be used for making local or international calls or for receiving incoming calls while roaming.

"Driven by an increasing demand in a highly competitive environment, this unique offer gives Etisalat customers the chance to be among the first in the UAE to get their hands on the new LG G Flex on a selection of attractive plans," said Khaled ElKhouly, Chief Marketing Officer, Etisalat, UAE.

Featuring a 6-inch curved screen, flexible body, the LG G Flex has a 13-megapixel rear-facing camera, 2.1-megapixel front-facing camera and up to 32GB of on-board storage. The device runs on the Android 4.2.2 Jelly Bean operating system, has a Qualcomm Snapdragon 800 2.3GHz quad-core processor. Etisalat is offering the phone for free on two post-paid and one prepaid plan.

In October last year, LG unveiled what it claimed to be the world's first 'real' curved smartphone, taking a dig at compatriot rival Samsung, which had right then taken the covers off the Galaxy Round, a curved smartphone.

Among the features that we found really interesting was the self-healing back cover, a la X-Men Wolverine! LG had then said in a media statement that its back cover "has the ability to recover from the daily wear-and-tear scratches and nicks that un-cased smartphones are likely to receive, keeping the G Flex looking newer longer".

The South Korean firm also maintains that, with its new, vertically curved design, the G Flex improves upon the traditional handset design by reducing the distance between one's mouth to the microphone when the device is held against the ear.

Read: LG mocks Samsung with world's first 'real' curved phone with self-healing back cover

No, for Dh250, customers get 1GB data and 100 flexi minutes on a post-paid plan, while for Dh400, they will receive a 10GB data package and 300 flexi minutes. Etisalat's prepaid customers meanwhile, will receive the device and 1GB of free data for the first month (Dh99 after one month), for Dh2,999.
Follow Emirates 24|7 on Google News.