Will Apple Watch beat iPhone 6 sales record?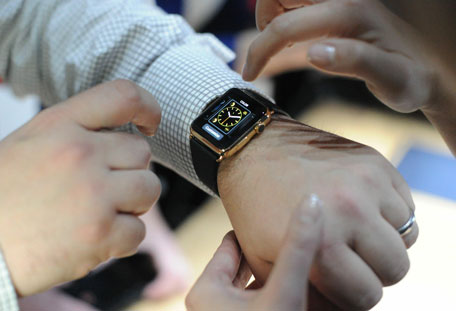 Close to one million Apple Watch devices were pre-ordered in one day in the US, with global numbers estimated at double that, according to unofficial estimates.

Apple opened up pre-orders for the Apple Watch on April 10 for customers in Australia, Canada, China, France, Germany, Hong Kong, Japan, the UK and the US.

Customers were allowed to pre-order their Apple Watch through the Apple Online Store with deliveries starting April 24.

According to a report by Slice Intelligence, 957,000 people in the US pre-ordered an Apple Watch on Friday.

It would be interesting to see if Apple Watch could go on to beat the iPhone record and become the number one best seller.

Like the Apple Watch, the iPhone 6 and 6 Plus were also launched on a Friday and saw sales reach 10 million units in the first three days of availability.

The iPhone 5S was the previous best and sold 9 million units during first three days.


Slice estimated data from 9,080 online shoppers and noted that majority of sales were in the $349 Watch segment and that each Apple Watch buyer ordered an average of 1.3 watches, spending $503.83 per watch.

Apple Watch is available in three collections, Apple Watch Sport, priced at $349 and $399; Apple Watch, available from $549 to $1,099; and Apple Watch Edition, with prices starting at $10,000.

The Edition expectedly got the lowest number of pre-orders.
The Slice report finds that 71 per cent of Apple Watch pre-orders on April 10 were for the larger 42mm case, with 32 per cent of aluminium Sport customers purchasing the smaller 38mm version compared to 24 per cent of stainless steel Apple Watch buyers.

The most popular colour is Apple's 'space gray' aluminium case, which stood at 40 per cent of pre-orders, followed by stainless steel at 34 per cent, silver aluminium at 23 per cent and space black steel at 3 per cent

More than a fifth (21 per cent) of those who pre-ordered the Apple Watch own an iPhone 6 or 6 Plus.

"Among those buying an Apple Watch, 72 per cent purchased an Apple product in the past two years (iPhone, Apple computer or iPad), and 21 per cent of them pre-ordered an iPhone 6 or iPhone 6 Plus mere months ago. Nearly one-third purchased two Apple products and 11 percent bought all three devices, in addition to their new watch," the report said.

Meanwhile, reports have emerged about delays in shipping as a result of a possible supply crunch.

Apple supply crunch on Apple Watch?

The delivery schedule is revealed upon pre-booking the order and some models state a timeframe of almost 6 weeks, which could mean shipments reaching customers early June.

It is not known when Apple plans to officially launch the Apple Watch in other markets including the UAE. However, it is available in the grey market for almost a Dh1,000 premium on the actual price.



Follow Emirates 24|7 on Google News.