World Mobile Congress: ZTE serves Samsung, Apple, Nokia with Grand Memo phablet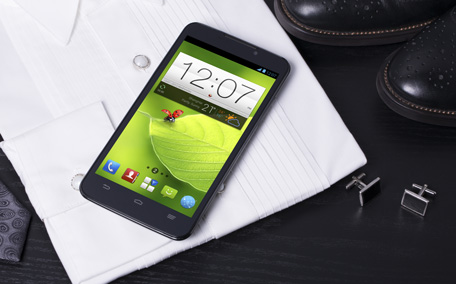 Chinese smartphone manufacturer ZTE wants to take on the world.
ZTE which launched its most powerful smartphone, powered by the recently launched Snapdragon 800 Processor is aiming not just at Nokia and Samsung but at Apple itself.
The numbers are already in its favour. The company sold almost 65 million phones in 2012, which makes it the fourth largest in terms of sales after Apple, Samsung and Nokia.
He Shiyou, ZTE's Head of the Mobile Devices Division told journalists at the World Mobile Congress in Barcelona that it almost doubled its sales in 2012 and plan to increase the numbers by another 30 per cent in 2013.
He was speaking after launching the brand new ZTE Grand Memo, a 5.7 inch phablet, featuring a HD display, quad-core Krait CPUs and 2GB of RAM, a 13MP rear-facing camera, 1MP front-facing camera and 1080 HD video playback. The 3200mAh battery is powerful enough to keep the phone alive for a pretty long time.
The phone runs on Android 4.1 - Jelly bean and is just 8.5mm thick and will come with a 16GB memory and a 2 GB RAM. The phone will first launch in its traditional market - China, and will soon be followed in the United States and Europe.
The Grand Memo will also become the world's first smartphone to be equipped with the Dolby sound technology.
Unveiled in Barcelona, the ZTE Grand Memo features the Dolby Digital Plus technology and "delivers a surround sound experience without negatively affecting the device's battery life." The smartphone will soon be available in Europe and China.
According to figures released by IDC, ZTE shipped 65 million handsets in 2012 which amounts to almost 3.8 percent of the global handset market.
In its efforts to take on the leader's role in the smartphone sector the company has even altered its marketing strategy.
"The main trends at the top end of the handset market are what we call the 4S trends - slim, screen, speed and safe," he said.
ZTE will also become the first company to tie up with Mozilla to use its just launched mobile operating system in developing markets, mainly Latin America.
The company announced that it would soon come out with its ZTE Open, that runs on Firefox OS and will go on sale by the middle of the year in Spain, Venezuela and Colombia. The ZTE Open will have a 3.5 inch screen size, 256MB RAM and 512MB of onboard storage.
ALSO READ:

British woman on honeymoon falls to death from hotel window
UAE jobs on offer: Ferrari World theme park hiring in Abu Dhabi



World Expo 2020 bid: Dubai's Dh28.8bn airport expansion helps UAE aviation sector soar
Follow Emirates 24|7 on Google News.