World's tallest Apple billboard in Dubai?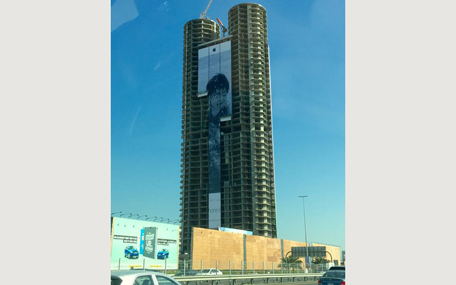 Could this be the tallest Apple billboard in the world? Apple is in the process of setting up several billboards on tall towers across the world to showcase the photo talking powers of its iPhone 6 and there is one being set up in Dubai as well.
The image was first spotted and posted on Twitter by Jimmy Grewal, who posted the image with a tweet, "Tallest Apple billboard in the world? If so, Apple is fitting right in to the Dubai way of doing things."

The billboard which is still not complete is being put up on a tower under construction right along the Sheikh Zayed Road close to Dubai Internet City.
Workers install the biggest Apple billboard along Sheikh Zayed Road in Dubai. (All pics by Patrick Castillo)

Apple is launching an aggressive campaign to promote the camera powers on the iPhone 6 and 6 Plus with a special page dedicated to images taken around the world.

Meanwhile according to tech blog 9to5mac, the billboard campaign will feature images in full bleed with a simple caption 'Shot on iPhone 6. It also said that several such posters are being installed around the world – about 77 different tones in 24 countries.

Interestingly, the campaign was launched on March 1, the same day when Samsung launched its Galaxy S6.
Follow Emirates 24|7 on Google News.