Which buyers paid Dh6.5m - in cash - to buy 'floating seahorses' in Dubai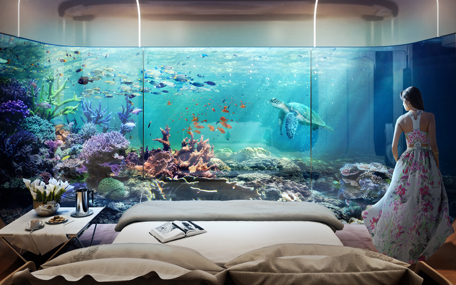 Thirty-five of 42 'floating seahorses' (marine style retreats) have been sold to Gulf Cooperation Council (GCC) nationals, Europeans and Indians, who have paid Dh6.5 million in cash, so far, for each unit, the Kleindienst Group chief told Emirates 24|7.

"We have sold 35 out of the 42 'floating seahorses' since we launched in March 2015.
"We will be building these houses in Dubai and we expect to complete them by end of 2016," revealed Josef Kleindienst.
Prices for the unit are, however, 30 per cent higher than what they were first sold for - Dh5 million - in February 2015, by a private company that had purchased these units from the developer.
Master developer Nakheel had in the same month said that approvals were pending for the floating villas. Kleindienst clarified that the 'floating seahorse' was essentially a boat and not a villa.

"There was only a misunderstanding because at the beginning we gave it the name floating villa.

The boat will be approved by Dubai Maritime City Authority and Coast Guard once it is completed and Nakheel is not involved in boat approval," he added.

The boats will be anchored on The Heart of Europe (THOE) development on The World.
Meanwhile, the developer is also talking to other island owners to take space. This would effectively mean owners of the floating seahorses could take their units across The World development.
Moreover, the Dubai-based developer is even looking at exporting these units.

"The floating seahorse is not restricted to the emirate's waters and can be designed and fabricated in Dubai for other resorts and destinations worldwide."

Floating seahorse

The floating seahorse is a marine style retreat (a boat without propulsion) and will have three levels: one underwater, one at sea level and an upper deck.

The master bedroom and bathroom will be totally submerged underwater, while the sea level accommodation will have floor to ceiling windows, a fully-fitted kitchen with a dining area and an open plan living area.


The upper deck will feature an informal bed, a mini bar, a kitchenette and a glass-bottomed jacuzzi.

The deck could be converted into a winter bedroom, which can be enclosed with retractable drapes.

The developer states it will also create an artificial coral reef beneath the retreats that will be a protected area in which seahorses can safely live and breed.

THOE comprises six islands: Germany, Austria, Switzerland, Netherlands, Sweden and St. Petersburg, with six additional destinations being Sochi, Belgium, Luxembourg, Geneva, Monte Carlo and Poland.
Follow Emirates 24|7 on Google News.