Ajman seizes 158,415 counterfeit auto parts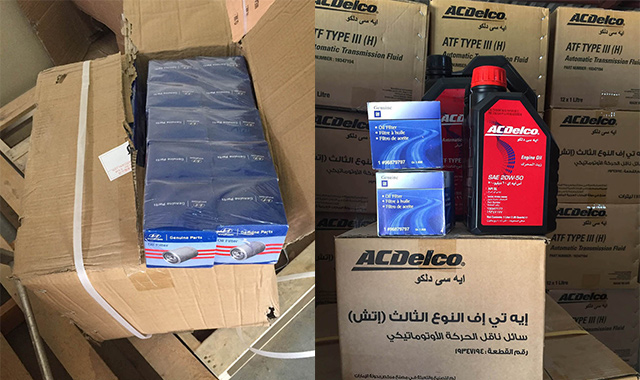 The Department of Economic Development – Ajman's (DED – Ajman) Directorate Control and Consumer Protection recently seized a total of 158,415 counterfeit car parts from 14 international brands in Al Helio area. The DED- Ajman and Ajman Police discovered the fake auto parts in a joint operation carried out to secure consumer markets, combat commercial fraud, and protect consumer rights. Aside from the confiscation of the counterfeit products, legal action is being pursued against the violators.
Mohammed Al Kutbi, Director of DED – Ajman's Directorate Control and Consumer Protection, said: "The Department is fully committed to taking measures deterring commercial fraud as part of our efforts to attract investors and customers to Ajman, raise the emirate's competitiveness, and place it on the global economic map. The seizure of counterfeit goods came after we responded to a complaint filed by an international company which reported the fake car parts being peddled in Al Helio. We coordinated with Ajman Police to seize a total of 158,415 counterfeit parts. Legal action is now being pursued to impose penalties on violators. The operation was aligned with our tireless efforts to preserve and safeguard both consumer and business rights."
"We will continue to carry our regular inspections, monitor activities, and raise awareness to combat commercial fraud and address economic and social challenges for us to build a competitive economy and achieve sustainable development in the emirate. Our efforts are not only to ensure the quality and safety of products in the market, but we are also working on raising public awareness to protect consumer rights and ensure investment safety in Ajman," Al Kutbi added.
For his part, HE Colonel Yahya Khalaf Al Matroushi, Head of Al Hamidiya police station in Ajman, said that the General Police Command is keen to combat everything that would harm the consumer interest--take all necessary measures to counter counterfeit goods dealers and stand firmly in the face of all those who seek to manipulate the security of the consumer of any product harmful to health and safety while working alongside the police and security agencies and trademark agents in the country to protect the commercial property of any global product.
He praised the efforts exerted by the Department of Economic Development in Ajman and its continued and continuous cooperation with Ajman police, and security forces to enhance consumer security and ensure the protection of its rights. He stressed that the seizure of these counterfeit goods would not have been possible without cooperation between the Department of Economic Development, Ajman Police and security services in Ajman.
The seized counterfeit products were from BMW, Mercedes, Toyota, Nissan, Mitsubishi, Isuzu, Ford, Honda, Volkswagen, Chrysler, Hyundai, Kia, ACDelco, and GMC. Commercial fraud and practices can be reported to the Department of Economic Development - Ajman via 80070 or info@ajmanded.ae.
Follow Emirates 24|7 on Google News.