Butcher slaughters wife to sell her flesh as meat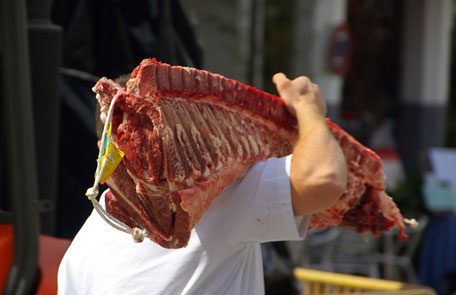 An Egyptian butcher blindly in love with his profession slaughtered his wife and sold her flesh in his shop reported Arabian News Agency (ANA).
After a heated dispute between the couple, the butcher brutally killed his wife, peeled her skin off the bones and cut the flesh into pieces to look like meat.
He then sold the human flesh for Dh230 per kilo to his customers claiming that it was local lamb.
One of the clients who doubted the meat was not lamb informed the police who sent it for examination.
The police was astounded to see the meat was human flesh and immediately impounded it and arrested the butcher.
The guilty murderer confessed to the crime adding that the flesh belonged to the wife whom he had killed.
Police found the hips of thw woman in the fridge of the shop and rest of the body at the man's residence.
He admitted that he had murdered his wife because she refused to obey him.

Man forces wife to strip, murders her for coming late
An angry young Egyptian man allegedly forced his wife to strip and then murdered her for returning home late from the market, reported Arabic daily, Ahram.
Neighbours who witnessed the crime informed police about the husband's act.
They said that the couple got into an argument after the wife returned home late from the market, after which the husband forced her to shed her clothes and then stabbed her with a sword.
When the police entered the apartment, they found the woman's naked body on the floor, with bruises and wounds.
The husband was arrested immediately and he confessed to the crime.

17-year old Jordanian massacres own family

An agitated 17-year old Jordanian boy went on a shooting spree and killed all his family members including his uncle due to difference of opinion reported Arabic AFP.
The suspect shot his father – a teacher, his mother, two brothers who were studying at a local University and his uncle who was a retired colonel.
The schoolboy was arrested within 24 hours when he confessed to the crime.
However, he refused to elaborate on the kind of differences that led him to convict this crime.
The police spokesperson said, "Almost all the victims have been shot in the head and their bodies were found wrapped in clothes at their apartment."
Police are investigating the case.
Follow Emirates 24|7 on Google News.