Islam-offending US teacher forced to apologise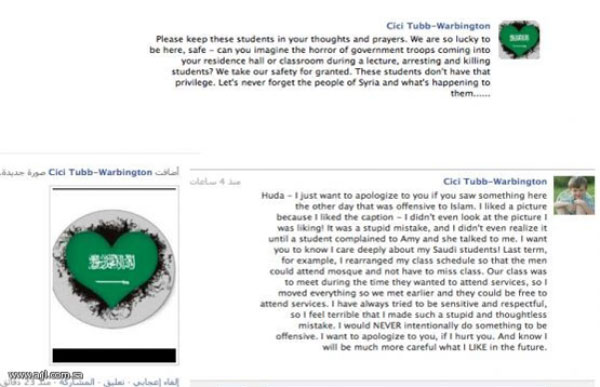 A female university teacher in the United States had to apologise to her Saudi students for offending Islam after they protested her behaviour to the management, Saudi newspapers reported on Tuesday.
The students went straight to the teacher's direct manager and complained that she had placed anti-Islamic pictures with abusive remarks in their books. They threatened that in case no action was taken, they would go to the chairman of the University of Central Arkansas in the southern state of America.
"We went into the office of the manager of the institute where we study and submitted a protest…we told her that if she does not take action against the teacher, we will go to the head of the university," Saudi student Ahmed bin Daheem Al Hajour said, quoted by the Saudi Ajel newspaper.
"The manager did take action as promised and forced that teacher to apologise to us by sending messages to each of us on our Facebook pages…. she even removed her son's picture from her Facebook page and replaced it with the flag of Saudi Arabia."
Ajel published what it said was a copy of the US teacher's message to the students apologising to them and saying it was an intentional mistake.
"I just want to apologise to you if you saw something here the other day that was offensive to Islam…I liked the picture because I liked the caption-- I didn't even look at the picture I was liking…it was a stupid mistake and I didn't even realise until a student complained to Amy (manager) and she talked to me," the teacher said in her message.
"I want you to know I care deeply about my Saudi students…last term for example, I rearranged my class schedule so that the men could attend mosque and not have to miss class…..I have always tried to be sensible and respectful, so I feel terrible that I made such a stupid and thoughtless mistake… I would never intentionally do something to be offensive."
Saudi readers reacting to the incident poured praise on the students while an angry reader who was not identified said :"As if the twin-towers disaster was not enough for them (Americans)," in a reference to the 2001 September terror attacks on the World Trade Centre in New York.
Follow Emirates 24|7 on Google News.