'Magic jar' retrieved by Saudi coastguards from the seabed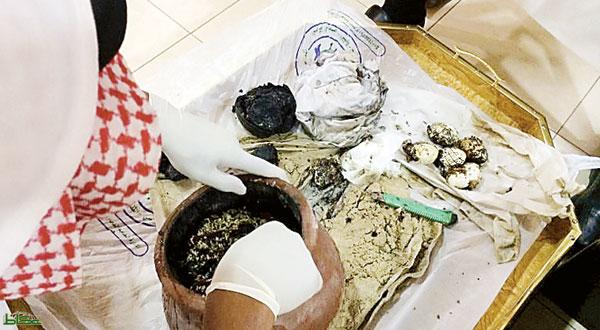 Saudi Arabia's coastguards men stumbled across a jar at the bottom of the Gulf waters believed to be containing witchcraft items, which were later destroyed by police anti-sorcery experts, a newspaper in the Gulf Kingdom reported on Thursday.

Coast guard units were on a routine patrol off the eastern port of Jubail when they spotted the pottery jar at the bottom of the warm sea in the oil-rich region.

The jar was taken out of the water and handed over to the country's feared religious police—the Commission for the Promotion of Virtue and Prevention of Vice.

Okaz Arabic language daily said the jar contained magic spell items including small white cloth pieces, threads, talismans, stones and other items. It said the jar also contained sand so it will sink and remain under water.

"God willing, the jar was found and taken out of the water…a Commission team studied the jar's contents before dismantling the magic spell and destroying all its items," it said, quoting Sheikh Nasser Al Khaldi, a Commission spokesman in the eastern province.

Sorcery is strictly banned in conservative Saudi Arabia on the grounds it is prohibited in Islam and touch penalties are included in the country's anti-witchcraft laws. A number of convicted magicians have been executed in Saudi Arabia in the past few years.
Follow Emirates 24|7 on Google News.