Man with 13 wives, slits new wife's throat; she survives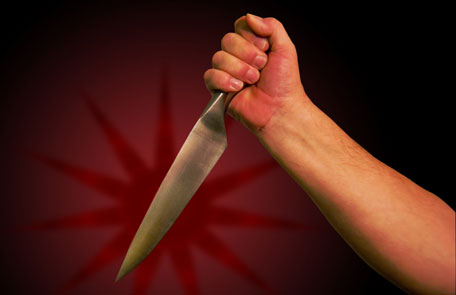 An Algerian man used a kitchen knife to slit his new wife's throat after she discovered that he has already married 12 other women. The woman has survived while police were still searching for the husband.
When she learned of his numerous marriages, the woman went to the police and reported her husband. He was sentenced to 10 years imprisonment in absentia and ordered to pay damages to all his 13 wives.
"After learning of the sentence, the husband went home, kicked his two little sons out and slit his wife's throat," the Algerian daily Alshuruq said.
"Believing that she was dead, he then took his children to the social security centre and told them to report him to the police that he murdered their mother….the woman was rushed to hospital where doctors saved her life as police launched a manhunt for the husband."
Rapist gets 7 years in RAK
A criminal court in Ras Al Khaimah sentenced an Arab man to seven years in prison and ordered his deportation after he was convicted of raping a woman from another Arab country, the press reported on Monday.

The unnamed man was also accused of taking the girl's underwear and filming her naked body with his mobile phone.
Police had arrested the man and found the pictures of the girl in his mobile phone after she reported him. Newspapers said the man denied raping her and said they had sex with her consent.


Drunk man attacks parents with axe

An old Saudi man and his wife were seriously injured after they were attacked by their drunk son with an axe, a newspaper reported on Monday.
The man, in his 30s, was rebuked by his parents for having alcohol when he returned home in the western town of Makkah, Alsaudeh said.
"An argument ensued and the man hit his father and mother with an axe…they were both seriously injured and admitted to the intensive care unit," the paper said, adding that police had arrested the son.

Kuwaiti soldier to be executed for killing maid

A Kuwaiti court sentenced a national soldier to death after he was convicted of murdering his Nepalese housemaid and burying her in a desolate area.
Newspapers said hungry dogs had uncovered the murder when they clawed their way into the grave and devoured part of the body.
Forensic experts had identified the body as that of the maid working for the 33-year-old Kuwait soldier at the Mina Abdullah naval base.
"He confessed to beating the maid to death and claimed he had done so because she was mistreating his children," Alanba daily said.
Follow Emirates 24|7 on Google News.