Pilot intentionally crashes plane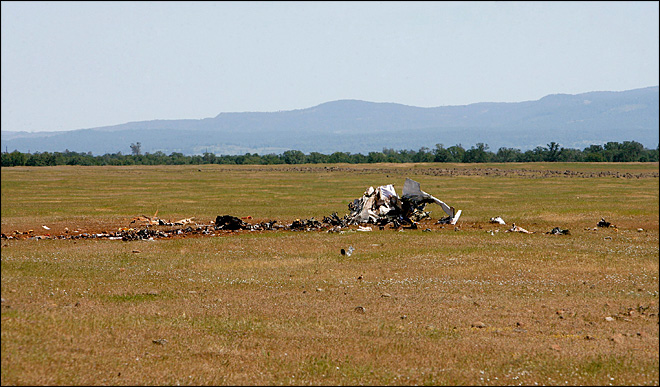 A pilot killed himself by intentionally crashing his plane into a field in Northern California a day after pleading not guilty to domestic violence charges, authorities said Tuesday

Zachary Cain Stickler, 34, entered the plea on Friday in Shasta County Superior Court to a felony count of making criminal threats and a misdemeanor battery charge, Chief Deputy District Attorney Stephanie Bridgett said.

The charges stemmed from an argument in February in Redding, California, that escalated and became physical, Bridgett said. The victim was dating Stickler, and the two were living together.

She reported online to police that her boyfriend had been violent and then left, and that her cellphone had been destroyed in the process, according to a Redding police report. She declined medical attention.

Stickler killed himself by crashing into a pasture on Saturday morning, Shasta County Sheriff's Deputy Dustin Reynolds said. Sheriff's officials responded to a report of an explosion around 8:30 a.m. and found a small debris field at the site where the single-engine Cessna crashed.

Text messages Stickler sent to friends and family before he crashed indicated he was distraught and planned to kill himself, Reynolds said. There was no indication he wanted to hurt anyone else, Reynolds added.

Sheriff's officials said they did not know what, if anything, triggered Stickler to kill himself.

Stickler worked as a flight instructor in 2014 at AFT Center Flight Training in Long Beach, California, said Jason Lamberton, the company's chief operating officer.

He was a skilled trainer who had a good rapport with students, Lamberton said, adding that he offered to provide Stickler with a reference when Stickler said he was leaving so his girlfriend could pursue an opportunity elsewhere.

"I'm absolutely shocked," Lamberton said when told about the domestic violence charges and crash. "There was nothing like that whatsoever in his behavior. The young man was very professional with what he did here. We were really happy with him."

He worked more recently for Aperture Aviation, an aerial photography company, which extended its sympathies to his family and friends in a statement.

The Federal Aviation Administration has assigned two inspectors to the crash, one of whom may conduct an on-site inspection, FAA spokesman Ian Gregor said.
Follow Emirates 24|7 on Google News.