Banks to post better Q1 results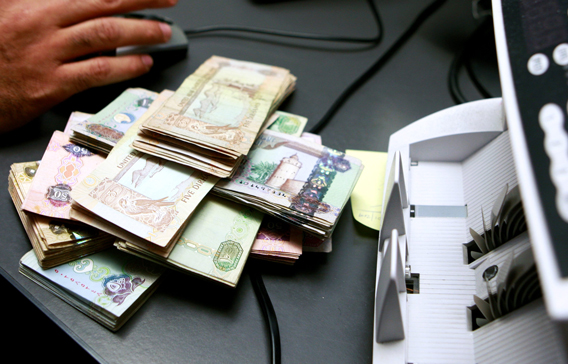 UAE banks are set to unveil better financial results in the first quarter of 2010 mainly because of higher fees on operations and lower provisions against non-performing loans, said analysts.
The country's 24 national banks are projected to have ended the first quarter of this year with nearly 20 per cent increase in their net income compared with the fourth quarter of 2009 but almost similar to earnings in the first quarter of 2009.
"We normally compare results year on year in normal financial periods… but as you know, the past two years have been characterised by crises and so they were not normal years," said Humam Al Shamma, financial analyst at Al Fajr Securities.
"In this case, we should compare the first quarter of this year with the previous quarter… according to my information, the UAE banks' combined net income is nearly 20 per cent higher than that in the fourth quarter of 2009… as for the first quarter of 2009, there might be a slight rise but I would rather say [their] stability."
Humam attributed the quarterly growth to what he described as a decision by most banks to scale down their non-performing loans (NPLs) provisions following record provisions in 2009 because of regional default problems.
Central Bank figures showed total provisions by the UAE's 24 national banks and 28 foreign units slumped to Dh1 billion in the first quarter of 2010 from nearly Dh4.8bn in the fourth quarter of 2009. Provisions stood at around Dh2.1bn in the first quarter of 2009 and peaked at Dh12.9bn through the year. The record provisions through 2009, triggered by bank exposures to the downturn in real estate and to two troubled Saudi businesses, largely weighed on the net earnings of banks despite a strong general performance.
Balance sheets of 16 listed national banks showed their net profits dipped by around 20.6 per cent to Dh14.87bn in 2009 from Dh18.71bn in 2008. In the first quarter of 2009, their earnings edged up by nearly 0.07 per cent to Dh5.41bn from Dh5.406bn in the first quarter of 2008, which is considered a boom period for banks and other institutions.
"Fiscal year 2009 was seen to be the most difficult year in the Gulf financial markets with the starting of the default of Saad and Gosaibi Groups and ending with Dubai's debt issue," said the Kuwaiti-based Global Investment House. Another analyst agreed that UAE banks performed better in the first quarter on account of lower provisions, higher return from investment banking and a business upturn.
"The rise in oil prices normally has a positive impact on the local economy and consequently on local banks," said Fadi Kiswani of Al Sharhan Investment. "In the first quarter of 2010, oil prices were at one of their highest levels in more than a year, and this will naturally benefit the general economic and financial situation."
Follow Emirates 24|7 on Google News.