ING Groep confident of paying interest on bonds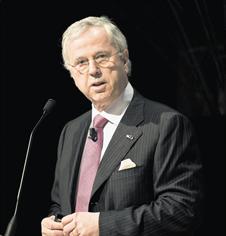 Dutch financial services group ING Groep yesterday said it would meet interest payments on its bonds, boosting its shares, as it announced HBSC's Patrick Flynn as its new chief financial officer.

Flynn's appointment comes at a difficult time for ING, which has already received Dutch Government aid and saw its shares fall to a more than 16-year low on Friday on concern it might miss debt interest payments, with traders citing talk that the group could be nationalised.

But the group reassured investors yesterday when spokesman Peter Jong said it would make the payments as planned.

Flynn is currently CFO of HSBC's global insurance business, based in London. He previously served as CFO for HSBC's banking and insurance operations in South America from 2002-2006.

"With his experience in a broad number of roles in both banking and insurance, I am confident that Patrick will play a valuable role for ING," the company's next Chief Executive Jan Hommen said.

Flynn will replace John Hele, who announced his resignation in October and will relocate to the US for family reasons and take up the post as CFO of Arch Capital Group.

"There is some relief, of course, because if they could not pay coupons that would also send a signal that they haven't got the capital," said Paul Beijsens, analyst at Theodoor Gilissen.

Incoming CEO Hommen also told a Dutch newspaper over the weekend the company is gauging the implications of the US bank rescue plan announced earlier this month for its activities there.

Beijsens said the fact ING is looking at a US aid package is logical as it would want to consider every option. "But it could send the wrong signal at the moment because when it says it is looking at aid from the US government you don't want to create a perception that you need more capital," he said.
Follow Emirates 24|7 on Google News.