Slow bank credit hindering growth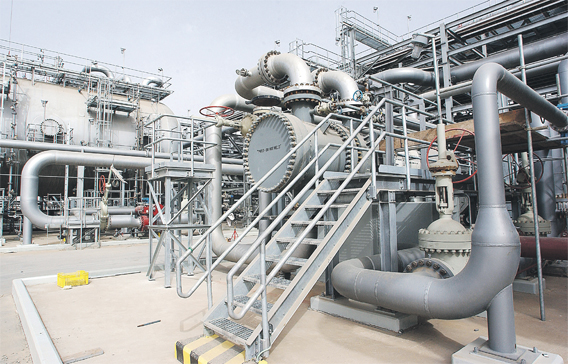 The economies of Gulf oil producers are treading firmly out of the throes of the global fiscal turbulence but slow bank credit remains a key obstacle to full recovery, a new bank report said yesterday.
Saudi Arabia, the world's oil powerhouse, is leading the economic recovery in the six-nation Gulf Co-operation Council (GCC), followed by Qatar and the UAE, said the report by the French Credit Agricole Investment Bank.
The report, written by John Sfakianakis, Chief Economist at the Banque Saudi Fransi, said the current oil price level supports counter-crisis fiscal stimuli in the GCC, which controls nearly 40 per cent of the world's proven oil wealth.
"But confidence, bank lending and lack of private sector appetite are a dampener to growth. Inflation is not a major concern so far, as domestic demand is low and the US dollar is firm. Saudi Arabia's macroeconomic outlook is the healthiest in the Gulf and it is now leading the pack," the report said.
Its figures showed crude oil prices averaged around $77 a barrel in the first two months of 2010 and have risen above $80 a barrel in March, supporting a cautious recovery in the Gulf countries.
"The biggest hurdles facing the oil-exporting region are stagnant banking lending, lack of private sector appetite, and the extent of new non-performing loans on bank balance sheets. While 2010 will be a year of cautious recovery, differentiation is unfolding in the Gulf, and Saudi Arabia holds the healthiest macroeconomic outlook, followed by the UAE and Qatar," it said.
In Saudi Arabia, which sits atop a quarter of the world's oil, the government has undertaken a $400 billion (Dh1.46 trillion) five-year spending plan, the largest fiscal stimulus package as a ratio of GDP in the G20, predicated on central bank foreign assets of $411 billion, more than 111 per cent of 2009 GDP, according to the report. "So far, the Kingdom has spent close to one-third, positioning it to easily meet its 2013 target. While Saudi Arabia posted a small budget 2009 deficit, the government has also reduced its debts since 2002 and should continue this year. Government debt to GDP is estimated to fall to 13.2 per cent in 2010."
The report believed that Saudi Arabia's oil export revenues should enable current account and budget surpluses in 2010 despite a projected fiscal gap.
It noted that Riyadh's gross external debt is among the Gulf's lowest and that existing government debt is all domestic.
Recently, Saudi Arabia has exhibited no asset bubbles and a new mortgage law, expected by the second half of this year, should provide more supply in the medium term for housing and financial intermediation for banks, it said.
"The Saudi growth story is supported by a population of 25 million, including around 7.5 million expatriates, growing at 2.5 per cent per year. Positive trends are visible in bank credit data and foreign trade, with imports and non-oil exports recording their strongest levels of 2009 in December," the report said.
Turning to the UAE, the report said its economy is recovering more slowly as a result of a sharp real estate downturn and lower domestic demand.
Abu Dhabi, holder of the bulk of UAE oil and gas reserves, is likely to witness GDP growth of 3.8 per cent in 2010. The UAE continues to witness low inflation rates, estimated to average 2.4 per cent in 2010 against 1.6 per cent in 2009.
Elsewhere in the GCC, inflation is picking up due to accelerating food prices globally and firm rents in some markets. Saudi inflation rose to 4.6 per cent in February, while in Oman, inflation dropped below one per cent late last year before rising to 1.7 per cent in January.
Follow Emirates 24|7 on Google News.