GCC investors hit by lack of diversity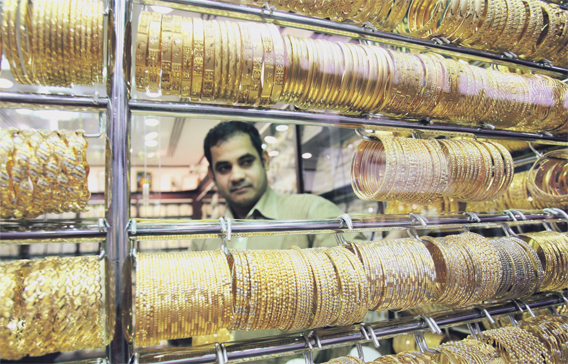 Individual investors in the Gulf have been hit by lack of diversity in their portfolios in the region despite the surge in gold and property investment in recent years, a key Saudi investment fund said yesterday.
Most GCC retail investors still prefer to invest in bank deposits although interest rates have sharply declined and a rise in inflation severely hit those investments, said NCB Capital, an offshoot of National Commercial Bank, the largest bank in Saudi Arabia.
While many investors sought to diversify their portfolios into real estate and gold, such a trend was not stable as it was influenced by fluctuations in these sectors. As a result, the decline in property prices following the eruption of the global fiscal distress prompted many of them to turn back to deposits.
"The savings profile of GCC individuals is highly skewed by international standards and far removed from the Western norm of a diversified portfolio. Unlike their Western peers, retail investors in the GCC – faced with a far narrower range of financial products – have mostly relied on equities and cash as vehicles for their savings," NCB Capital said in its GCC monthly report.
It noted that gold has been an important theme on a much smaller scale, albeit mainly in the form of finished gold jewellery, even if the role of investment demand has grown of late. In recent years, real estate has emerged as an increasingly popular alternative form of investment, the report said.
"However, these choices have been highly cyclical in nature, leaving investors to resort to exit as their primary means of risk management as markets correct. Problematically, cash remains vulnerable to inflation, which has become an increasingly important consideration in recent years," it said. "Moreover, investments in real estate and gold are limited by a still restricted availability of mortgage finance and the challenges of stocking physical gold. Consequently, the lack of diversity has exposed the GCC retail investors to significant volatility. The role of collective savings in the form of life insurance, mutual funds and pension funds is minimal by global standards in the GCC."
According to the study, institutional investors, which form more than half of savings in the West, remain relatively underdeveloped in the GCC, although the insurance sector is growing and the availability of different fund products improving. But it added that the broader savings culture in the GCC is only minimally linked to collective savings in spite of the long-standing presence of partially funded compulsory government retirement schemes.
"As a result of this state of affairs, many retail investors fail to benefit from professional asset management and expose themselves to avoidable risks and volatility. Also, the relative absence of long-term institutional investors such as mutual funds and insurance companies has imparted a greater amount of volatility in the GCC exchanges as compared to international standards," it said. "Lastly, financial advice is not readily available and not always subject to comprehensive regulation. This is in sharp contrast to the West, where governments, in an effort to boost long-term savings, have promoted financial advice by professional and independent advisors."
NCB Capital described the investment situation in the GCC as "far less advanced" and stressed that a great deal of work needed to be done in terms of fostering financial literacy and awareness across the age spectrum. While some regional regulators with legal mandate for investor education have made commendable initial efforts in this area in recent years, the magnitude of the challenge "reflects the young age of many asset classes".
"Even as savings behaviour in the West varies a great deal between countries, and a lack of investor awareness is widely recognised as a major challenge, Western consumers tend to invest in a diversified portfolio of products, not least because of the importance of mandatory retirement schemes," the study said. "For many GCC investors, the default choice is still between bank deposits and equities. Jewellery-dominated gold investment is well established but fairly modest in aggregate terms compared with that in the West."
The report showed gold consumption in the GCC was estimated at $7.4 billion (Dh27bn) in 2008.
Follow Emirates 24|7 on Google News.