Fund managers rework strategies to get in sync with market dynamics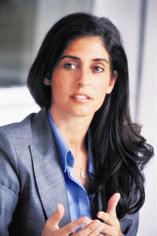 The spate of volatility prevailing in the Gulf's financial markets, coupled with reduced liquidity in the region, is making fund and asset managers tweak their mutual fund investment strategies in sync with the market dynamics, senior fund managers have said.

"Reduced liquidity brings more volatility and so it means asset management needs to be more dynamic. Fund managers now cannot afford to be passive in terms of buying and holding. They need to be a stock picker and cannot just go on investing at the macro or sector level. They have to understand the story that they are investing in and have to be dynamic in the way they are managing the funds," Farah Foustok, CEO, ING Investment Management Middle East, told Emirates Business.

She said although sectoral allocation strategy has become a little more difficult, but it has not fallen out of favour yet.

"We believe in these markets it is very difficult to take a sector approach because if you look at the 11 countries in the Mena region you can't generalise about the sector across these countries. If you look at the real estate in Saudi Arabia, Dubai and Egypt, it has completely different dynamics within each of these separate markets. Besides, a fund manager has to look at different companies within the property sector in each country, which have again different dynamics," Foustok said.

"Now is the time for active stock selection. In our opinion, bottom-up driven processes with high stock selection capabilities are going to be alpha creators in the Mena region this year," said Fadi Al Said, Senior Fund Manager and Head of Equities, ING Investment Management Middle East.

Funds allocation patterns in the GCC moved increasingly in favour of the equities sector last year, according to the latest report on GCC equity funds by Kuwait Financial Centre (Markaz).

Exposure to equities increased throughout the year as managers took advantage of a second- and third-quarter rally. The allocation was at 87 per cent in December from a low of 70 per cent in March whereas cash began the year with 28 per cent of manager assets steadily declining to 12 per cent by December. However, assets under management for UAE equity funds contracted 11 per cent in Q4 2009 to $611 million (Dh2.24 billion). Fund managers also allocated 17 per cent of their assets in September in the UAE before cutting exposure to 10 per cent in December, it said.

According to ING Investment Management Middle East outlook for 2010, equity markets in Saudi Arabia, Qatar, Oman and Egypt, selectively, have the internal driving catalysts that will attract foreign and local investors. In the UAE, a lot of the infrastructure spending in the region that was delayed or tendered will have a big chance of materialising this year, which will reflect positively on project-based companies and manufacturers that are linked to governments spending, it said.

The outlook also said a sustained global recovery will have a very positive impact on manufacturers in the UAE, especially the ones that export a big chunk of their production. However, as retail investors turn risk averse in the current market conditions globally as well as regionally, fund managers say retail investors need to entrust their money with professional fund managers who understand the region and the companies and they need not to be focused on one company or stock or one asset class but allocate their assets across a very diversified portfolio.

"Diversification is key for investors and is key for the long-term sustainability and growth of a fund over an investment horizon of not less than 12 to 18 months, because this is what is needed for investment course to materialise," said Rami Sidani, Head of Mena Portfolio Management, Schroders Middle East. "Retail investors who want to trade on their own end up buying high and selling low. Fund managers, with a long-term plan, tend not to make such mistakes."

Fund managers say a retail investor needs to go by the fund manager rather than the NAV (net asset value) of a fund in order to invest.

"To select a particular fund, it's very important to understand the management team behind the fund. After all, this is what makes or breaks it. It's important o understand the knowledge or experience that the fund manager and his team enjoy. At the same time it's important for the management team to be on the underground and understand the dynamics of the region they invest in," Sidani said.

Tarun Ghulati, CEO, UTI International, a 100 per cent subsidiary of UTI Asset Management Company of India, said: "An investor should look a little deeper. Fund manager is the one who delivers the goods. If the strategy and objective is good and if the desire to deliver value to the customer is there, then the NAV will follow suit."


Myths and mistakes

Following a herd mentality is one of the biggest mistakes a retail investor makes when it comes to investing in a mutual fund, believe fund managers.

"Retail investors often end up following what's called a herd mentality or following the crowd. Unfortunately, they do it at the wrong time usually and this is the mistake they make. Secondly, retail investors generally do not tend to have a diversified portfolio, so they end up focusing on one stock that increases the risk of their wealth significantly," said Rami Sidani, Head of Mena Portfolio Management, Schroders Middle East.

He said there are elements of risks in any types of investment, including in mutual funds. However, an investor can mitigate these risks by investing for long-term period, say for three to five years, because the long-term time frame reduces the risk and filters out the volatility that financial markets usually exhibit.

Fadi Al Said, Senior Fund Manager and Head of Equities, ING Investment Management Middle East, said investments is all about expectations and sentiments, and mistakes have much to do with behavioural finance.

"Retail investors sometimes overlap risks when investing in equity markets and investing in funds, because they compare performance of the stock with the performance of funds. Panic and greed are other usual mistakes," he added.

The biggest myth of investing in a mutual fund is to always make money, points out Tarun Ghulati, Chief Executive Officer, UTI International. "The second biggest myth is that – if I follow the trend it'll be always good for me," he said.
Keep up with the latest business news from the region with the Emirates Business 24|7 daily newsletter. To subscribe to the newsletter, please click here.
Follow Emirates 24|7 on Google News.