Salata Farms harvests quality in desert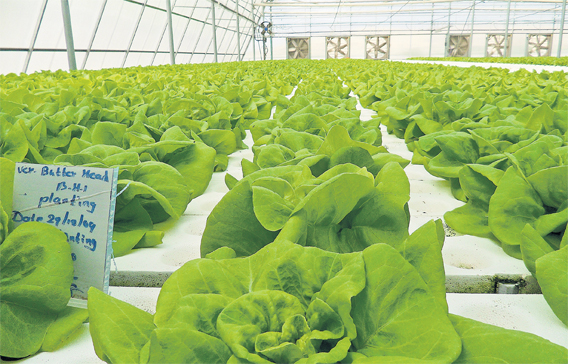 A business in the Northern Emirates has proved that farming in arid climes can profitably yield quality produce and offer investment opportunities.
Private equity firms are considering buying stakes in Salata Farms of Ras Al Khaimah, a medium-size venture that has embarked on $80 million (Dh293m) expansion plan.
Dubai-based private equity firm Siraj Capital has already invested in the company, which is pioneering advanced hydroponics technology in the region.
"Now that we have validated our business model in Ras Al Khaimah we can chart a new course in the region," Thomas Schwarz, Salata's Managing Director, told Emirates Business.
More investors are expected to follow Siraj's lead and back the company. A recent report from Siraj says: "Food security is a national issue for Mena governments as they grapple with the basic needs of a growing population. Salata's desert agriculture business model is an alternative to acquiring agricultural land in foreign countries in order to secure the Mena region's food supplies. Salata is playing a critical role in building the Mena region's local industry and trade."
Schwarz added: "Our expansion plans include turning around under-performing farms if they fit into Salata's broader strategy. Through our investors, Saudi Arabia and Siraj Capital, we have a well-developed plan for building a regional footprint."
He plans to take his company public, but at a later stage after it has acquired critical mass. For now, he is in talks with a number of private equity firms about a private placement to raise $80m for the expansion plan.
"Having successfully grown a range of salads and vegetables, we are diversifying our product range to include products that are rarely available in the local market, such as fresh berries. We will be expanding our scale by a factor of 20 over the next couple of years across the GCC region."
Salata received exceptional free zone tax-free status from the Ras Al Khaimah Investment Authority (Rakia).
It was established as Salata FZCO in April 2008 and plans to expand to three hectares in Ras Al Khaimah before growing across the GCC region. Salata has taken over Al Jazeera Farms in Ras Al Khaimah where it grows tomatoes, capsicum, herbs, coriander, mint, parsley and sweetcorn.
Schwarz believes the Salata model will succeed by meeting the demand from the region's consumers for produce that matches global quality standards.
The Salata brand stands for the European organic quality level for fresh food. Consumers here pay much more for imports from Europe, which is justified when the cost of shipping is taken into account. What we offer is the same quality at a far lower price."
Salata is the first company in the region to use automated hydroponics technology for producing vegetables, berries, herbs, and fruits – some of which have never been grown locally, according to Schwarz.
Hydroponics involves the cultivation of plants in nutrient-enriched water. Yields are about the same as for soil-grown crops.
"Our hydroponics system allows consumers to enjoy consistent, natural quality year round, including rare, out-of-season produce. Salata's system is natural and suitable for the desert, recycling scarce water while utilising less land and labour."
The Middle East is the world's most water-stressed region. "Unfortunately, the region has abused this precious commodity by siphoning the water table to produce low-margin products such as wheat. Our hydroponics technology is suited to our region since the system recycles 80 per cent of the water used. Salata is leading the way in protecting our fragile desert ecosystem."
Salata's team of agronomists ensure quality control across the entire supply chain including growing seedlings through its in-house nursery, testing water quality lab, storing, cleaning and packing before the products are shipped daily to consumers.
Schwarz does not claim he is practising organic farming, but he does limit the use of pesticides and chemicals to the barest minimum.
Follow Emirates 24|7 on Google News.