Saudi budget likely to record surplus in 2010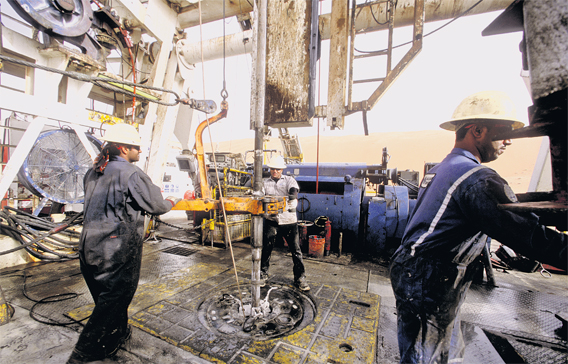 Saudi Arabia's 2010 budget will likely end the year with a surplus despite an expected increase in actual spending as part of the kingdom's counter-crisis expansionary fiscal policy, a key investment firm said yesterday.
The Riyadh-based Jadwa Investments said it based its forecast on a sharp increase in revenue due to an expected surge in average oil prices.
Jadwa projected the budget surplus at SR23 billion (Dh22.7bn) against a forecast deficit of SR70bn.
It expected the kingdom, the world's oil basin, to earn around SR626bn in 2010, nearly 39 per cent above the budgeted revenues of SR470bn. The report said it expected Riyadh to overshoot budgeted expenditure to about SR603bn compared with planned spending of SR540bn.
Announcing its 2010 record budget just before the end of 2009, Saudi Arabia assumed a deficit but the budget was again based on a conservative oil price of around $45-50 a barrel. Jadwa projected the price of Saudi crude to average around $71.3 a barrel and the country's crude output to climb by around 200,000 barrels per day (bpd) to 8.3 million bpd in 2010 from 8.1 million bpd in 2009.
The increase in oil prices by around $10 over last year will combine with higher output to boost the kingdom's crude export earnings to $186bn in 2010 from about $157bn in 2009, according to Jadwa.
In contrast with several forecasts, Saudi Arabia's budget recorded a deficit of SR45bn in 2009 because of a sharp rise in spending as the country is locked in a massive fiscal stimulus to mitigate the effects of the global financial turmoil. The budget suffered from a deficit last year although the government used its enormous overseas assets to finance spending.
Jadwa expected the budget to record another surplus of SR51bn in 2011 because of higher revenue as oil prices could further rise to $74.8 and the kingdom boosts crude output to 8.5 million bpd.
The positive balances in 2010-2011 remain a fraction of the massive budget surplus of SR581bn recorded in 2008, the largest fiscal surplus in the country's history. It was a result of a sharp rise in revenue which hit an all time high of SR1.1 trillion.
The report showed the surpluses in 2010 and 2011 would account for around 1.5 and three per cent of GDP respectively compared with -3.3 per cent of GDP in 2009 and a record 32.6 per cent in 2008.
Besides the surplus, the surge in oil prices, which crossed the $80 mark last month, would give a shot in the arm to the Saudi economy and boost confidence that was hit by the crisis, according to Jadwa.
"New economic data are encouraging. They point to a strengthening of performance across the economy. With the stock market index also having a good month and oil prices holding above $80 per barrel, it seems that the revival of private sector confidence is gaining momentum," it said.
"But lack of access to bank credit remains the private sector's main concern, so growth in lending during February is positive. Nonetheless, as the bulk of lending is short term, there is a risk that some companies will be unable to rollover their debt. As for deposits, growth has continued to ease owing to low interest rates, meaning that the loan-to-deposit ratio is up for the second consecutive month. Slowing money supply growth points to subdued domestic inflationary pressure."
The report showed inflation jumped to around 4.6 per cent in February owing to higher food prices, adding that the increase reflects the very low base for comparison, as food prices plunged during late-2008 and early-2009. Rental inflation fell again, though rents are now 50 per cent higher than at end-2006.
Follow Emirates 24|7 on Google News.