Creating an iconic home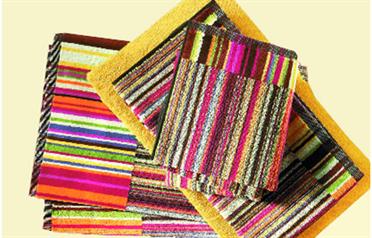 "The home is alive. It is constantly evolving and never finished," says Rosita Missoni. This creative philosophy speaks volumes about the passionate approach to interiors of the woman behind the iconic Missoni homeware brand.

Once a collection of textiles, it has grown into a furnishing concept, a lifestyle. Unusual fabrics, surprising objects, geometrical shapes and exuberant motifs are the sophisticated, playful ingredients of MissoniHome style.

The magical atmosphere of the designs owes much to the dynamism and personality of 77-year-old Rosita. Not content with being the ultimate working mum, she has three children, Luca, Angela and Vittorio, and co-creator of a fashion dynasty, she created the MissoniHome brand in her 'retirement', following 50 years at the helm of Missoni SpA with her husband Ottavio.

Rosita's pedigree in textiles is second to none. She was born into the Jelmini family, who together with their relations, the Torranis, created the home fabrics company T&J Vestor in 1921. In 1983, T&J Vestor added MissoniHome to its product line. With Rosita Missoni on board as designer since 1997, the brand has exploded. Unlike some fashion designers' ventures into interiors, there is nothing bland or lazy about Rosita Missoni's designs for the home. Her unbridled creativity and kaleidoscopic fabrics offer something genuinely original. The popularity of her collections has survived many fleeting interiors trends, even the incompatible era of minimalism.

The Missoni Midas touch looks set to continue, with hotel projects in the pipeline including the launch of Hotel Missoni, one of which is scheduled to open in Dubai on The Palm, Jumeirah at the end of the year. Here, she reveals more to Emirates Business.

How would you describe your personal style?

Informal, unconventional, comfortable, colourful and a bit bizarre.

Is your outlook on life as cheerful as your designs for MissoniHome?

Yes, it is. I consider the home to be just like a shell or nest and this concept inspires my idea of decorating a house, filling it with colour and sunshine.

It has been said that you prefer to be known as an artisan rather than a designer – can you explain the distinction?

I get the most pleasure from working not only with shapes, but also with yarns, patterns, textures and colours. Sometimes it's the cloth and its texture that inspire the design.

What is the concept behind MissoniHome and how has it evolved?

MissoniHome began as a textile collection and has grown into a complete, detailed style for the home. Every single piece has its own identity and life, but it is also part of a distinctive furnishing approach.

Who likes MissoniHome?

They are young, creative people who seek out attractive and glamorous designs, as well as those of all ages who appreciate special, precious pieces with simple, exclusive details – like a checked throw, a flower shaped rug, a slim sofa or an embroidered bedding set.

Your recent collection takes motifs from nature, including mushrooms, flowers and animals. Is the natural world one of your greatest influences?

I live in nature. My home and factory are in the countryside as I love being surrounded by colourful woodland, with lots of flowers and mushrooms. I also like the sea – blue water and sunshine – as it inspires so many emotions.

How important is it to approach the home as a fusion of indoors and outdoors?

It is lovely to bring all the memories and sensations you get from the outside world into the home. I like to create an atmosphere at home that is like a dream of what I have experienced outdoors. An animal or a plant might influence the colour of a textile or suggest the shape of a chair, rug, or lamp. I have taken this concept a bit further with an outdoor collection, which was launched a few years ago for MissoniHome.

How can interior design turn a 'living space' into a 'home'?

For me, it's important that a home can be used for entertaining. Besides a cheerful welcome, it should offer a pleasant atmosphere and a harmonious feel. To this end, MissoniHome presents a way of furnishing that is both informal and organised.

What was the motivation for giving up fashion for a move into interiors?

When I passed the torch of the Missoni fashion collection to my daughter Angela, I spent a few weeks playing grandma, taking my grand children to school, but I had a kind of vertigo, feeling that my life was too empty.

At this time, our licensed home collection for bed and bath and rugs, which had been around since the late seventies, had become a good commercial product. I decided to spend some time developing it into a fashion for the home. I thought that taking care of the home collection with the same passion I had for fashion would be an ideal way of filling the void in my life.

Are fashion and home design edging closer together?

Yes, I believe so. In fact, MissoniHome motifs and colours mostly originate from our fashion inspiration.

Where does Rosita Missoni feel most 'at home'?

My real home is Sumirago, in the Italian region of Lombardy. But I love all my homes – in Paris, Venice and Sardinia. They have been selected in special places that the family loves. We are constantly furnishing and changing them to capture different moods – but always in the Missoni spirit.

Are you excited about the Hotel Missoni project?

Yes, of course. Hotel Missoni will be an embodiment of the Missoni lifestyle, which is really fantastic. Every detail, including the colours and furnishings, will be unmistakably Missoni. But there will also be every effort made to create a cosy atmosphere and make guests feel comfortable and welcome. Hotel Missoni will be committed to attentive, excellent service from all the staff.

What ambitions do you have for the future?

I hope to keep in good shape, surrounded by my family and friends, enjoying my job as I do now.
Follow Emirates 24|7 on Google News.