Get your own piece of the Island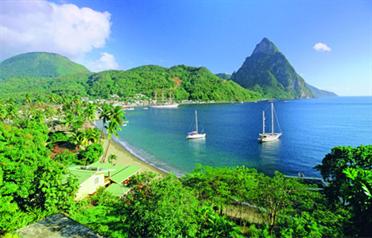 The Caribbean Islands are undoubtedly among the world's most sought-after holiday home and investment destinations.

Their beauty has made them a favourite of the rich and the famous for more than a decade. But for the most romantic island of all – St Lucia – the real estate boom has only just begun.

The island nation, tired of living in the shadow of the likes of Barbados, has transformed its policies in the new millennium to focus on improved tourism and the provision of high-quality lifestyle homes.

It opened its shores to foreign investment in roads, communications and services infrastructure – and the results have been impressive.

As investment poured in its lifestyle improved drastically and property developers cashed in with ambitious projects. An intriguing mix of investors and holiday home buyers lapped up villas, attracted by the island's sun and exclusivity. And St Lucia, which often draws comparisons with the simple, sunny life of old Barbados, continues to attract developers with its progressive property schemes.

The focus on tourism and infrastructure has produced average annual economic growth of 3.45 per cent since 2003. The real estate sector posted 7.6 per cent growth in 2007 and while speculators are still waiting for last year's results, local realtors are expecting a drop to about five per cent.

"Since projects have only recently started in St Lucia and it is a niche market, which still has disposable income, no projects have stalled," said Paul Lathrope, Managing Director, Fine & Country – Caribbean.

"This industry will continue to grow. Our expectations are that the Caribbean property market will rise at a rate of 10 to 15 per cent per annum and the properties we are offering at the Marquis Estate development are between 40 to 50 per cent below market value.

"There is a 10 per cent guaranteed rental income for two years followed by room rate share. With this in mind, and given the room rate values on the island, one could reasonably expect a yield upwards of 35 per cent."

Most of the development on St Lucia is upmarket, including areas such as Raffles Resorts, Le Paradis and a marina living project, The Landings. But there are also smaller boutique developments like Mount du Cap and Cap Maison at the Cap Estate and The Reserve on Rodney Bay.

Despite some progress in the entertainment and excursion sectors, the island is still crying out for tourism, enterprise and innovation. Given that $808 million (Dh2.9bn) was spent by visitors in 2007, the potential for local enterprise is vast.

Those looking to purchase land for hospitality ventures will be encouraged by statistics that reveal a six per cent annual average growth in occupancy rates, with the present figure standing at 69.7 per cent, the St Lucian government announced in its budget address for 2008-09.

The government, well aware of the negative effects of construction activity on other Caribbean islands, has strict environmental guidelines. Last year it brought in more changes and now requires mandatory environmental impact reports and has banned new construction within 100m of the coast.

And it has every right to do so. The strikingly beautiful tropical island of St Lucia is situated at the heart of the Windward chain in the Eastern Caribbean between St Vincent and Martinique.

St Lucia offers spectacular peaks and deep valleys draped in the lush greenery of a rainforest. Its stunning coastline offers variety from classic stretches of white-sand beaches to dramatic cliffs and hidden coves, and has some of the finest natural harbours in the Caribbean.

The iconic towering Pitons are just two of the island's natural wonders; the spectacular twin volcanic peaks rise majestically from the sea, midway down the Caribbean coast.

A favourite escape for Americans and Britons, St Lucia draws nearly half its GDP from tourism and almost the entire second half from banana production.

Unlike other tourist islands, locals aren't disgruntled by the presence of visitors and bring a refreshing warmth.

As well as being the perfect place to relax, St Lucia offers investors a colourful kaleidoscope of entertainment attractions. From exploring its sultry rainforest and swimming in its tropical waterfalls to snorkelling and diving in its turquoise waters, there's plenty to keep you busy.

Spanning 616sq km, the former British colony is divided into 11 quarters and has a population of 170,650. While its official language is English, you would do well to brush up on your French since the locals speak in a rather curious French Patois. St Lucia's biggest attraction, not surprisingly, is its climate, with a year-round average of 27° C and minimal seasonal variation.


On the market

ISLAND SANCTUARY SPA VILLA 
2 bedrooms, 1,300sq ft (5,000sq ft plot), £950,000 (Dh4.8m)

The villa comes with its own private ground and is surrounded by channels of fresh water and tropical planting. The interior combines oriental-style simplicity and contemporary luxury with air conditioning, a state-of-the-art media centre with a flatscreen television plus an interactive entertainment system with internet access.

Bathrooms are elegantly appointed with a multi-spray shower and an outdoor rain-shower. The glass walls of the villa slide back to provide an extended living area opening onto a terrace with a sunken double bath and an infinity pool.

- sales@fineandcountry.ae  or call +971 4 4270202

THE MARQUIS ESTATE 
Studio, 600sq ft, £495,000 (Dh2.5m)

This property, set for completion in 2013, is a product of legendary golfer Gary Player's award-winning design and Harlequin Hotels and Resorts' effort to bring hotel and golf to the Caribbean. Each luxury property will come with stunning landscaped gardens and secluded sun terraces.

The resort will offer unparalleled luxury, service and comfort including a 24-hour concierge facility and, of course, access to the Gary Player Signature Golf course. The course will be challenging for both amateurs and professionals, and will use the natural environment to create a golfers' paradise with spectacular views across the emerald fairways to the shimmering ocean. The lush greens, lakes and immaculately cut fairways of this sculpted tropical paradise will provide players with an unforgettable golfing experience.
Follow Emirates 24|7 on Google News.