Make your balcony a greener space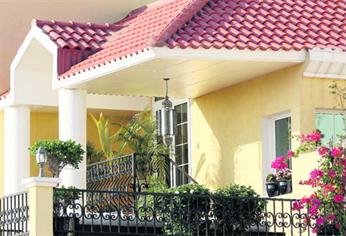 Living in an apartment can have many advantages, but it can restrict those who enjoy gardening as a hobby. A balcony is just one of the many places where a container is the best and, sometimes the only way, to grow flowers and plants. Fortunately containers can also be great fun to work with.

There are two main types that are suitable for a balcony – one that rests on the floor, and one that hangs from the roof or a hook. The shape of the container can vary but is generally either an oblong shape or pot shaped, and sizes vary from that of a tea cup to very large landscape pot. Avoid the very large ones for an apartment, but even small citrus trees can grow well in modest sized areas, and can be used in small spaces.

Traditionally, hanging baskets were used to house creeping plants that draped over the side, but there is a recent trend to lower a larger size container and plant upright flowers that are seen at eye height. So don't let convention limit what you want to grow.

The most crucial part of container growing is getting a light plant mix that provides sufficient nutrients and drainage whilst not becoming too heavy for a balcony floor or your support. Dan Benarcik is a horticulturist at Chanticleer Gardens in the US, where one of his duties is the enormous array of containers that adorn the courtyard of these pleasure gardens. He recommends filling the lower half of a terracotta pot with good quality compost and topping off with a commercial container mix. This not only provides nutrients for trees and plants, but also gives stability for larger pots.

He also recommends pot 'feet' so that there is a gap between the base of the pot and the floor surface. This helps drainage, and 'air prunes' the roots before they grow out. Benarcik's hanging basket list gives just a sample of the creativity that goes into the containers, as well as the variety of things that he grows. He recommends including a plant or shrub of the mallow family, native to warm climates and typically bearing yellow, red, or mauve flowers, which grow to four feet, and that work well in combination with small palms.

Other container options include growing salad and herbs in large containers, or, in the case of herbs, a selection of smaller containers that are grouped together.

Specialist garden author Rose Marie Nichols McGee suggests trying melokhiya basil – a hot weather herb that has a better taste in warm climates than traditional coriander. Remember though that small containers outside dry out very quickly so be sure to water regularly.

The bottom line is that you need not feel restrained when faced with a balcony or small space. Green fingers can have just as much fun with interesting containers and plants. So get gardening.
Follow Emirates 24|7 on Google News.