$3.5bn Concourse 3 on track to open in 2012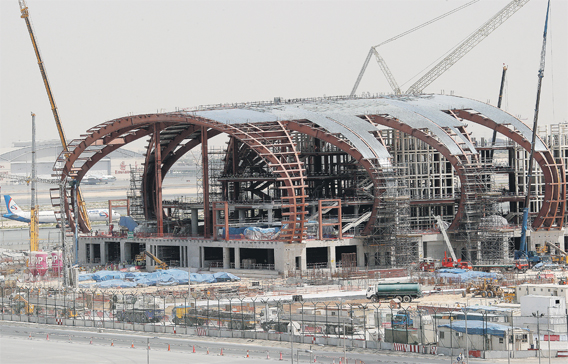 Dubai International airport's $3.5 billion (Dh12.85bn) Concourse Three (C3), a part of the Terminal 3 complex, will be the world's first Airbus A380-dedicated facility of its size when it opens its gates at the end of 2012.
The construction on C3 started in early 2008.
The new concourse, technically an extension and continued development of Concourses 1 and 2, is designed for the exclusive use of Emirates airline, and aimed at increasing Dubai International's total capacity from the current 60 million passengers to 75 million passengers per annum.
The C3 facility – following the typical shape of Concourse 2 in design with a total built-up area of 528,000 square metres – will feature 20 aircraft contact gates, 18 of which will be dedicated to A380, in addition to six gates for remote stands.
Anita Mehra, Vice-President, Marketing and Corporate Communications, Dubai Airports, told Emirates Business: "Dubai Airports will continue to invest in aviation infrastructure to accommodate growth. Our strategy is to have capacity lead demand, so we never have to constrain aviation growth and the considerable economic and social benefits it drives."
Even though C3 will be similar to Concourse 2 in terms of appearance, it will have a smaller footprint, as the new concourse would be 90m wide and 645m long.
It is a fully airside structure connected to the two major public levels of Concourse 2 and Terminal 3 via an Automated People Mover (APM), in addition to the vehicular and Baggage Handling System (BHS) utility tunnels.
The C3 is being built partially underground comprising the APM stations (both arriving and departing), and like C2 the lower and upper levels would be connected by means of a special vertical transportation system (sky trains) that would act as a focal point feature in a central atrium, according to Dubai Airports.
While the arrival and departure levels of C3 would be similar to Concourse 2, the first and business class levels would be further split up and located one above the other, below the hotel level, which also includes a health club and a business centre. The hotel at C3 would be designed to feature both four- and five-star operations.
Construction of Emirates-dedicated Terminal 3, meanwhile, began in 2004 with an estimated cost of around $4.55bn. Originally planned for completion in 2006, the terminal became operational on October 14, 2008.
The T3 increased the airport's maximum passenger capacity annually by 43 million, bringing the total annual capacity up to 60 million passengers.
Meanwhile, at the end of June, Dubai Airports will open the first phase of DWC-AMI (Dubai World Central-Al Maktoum International airport) for cargo operations.
Designed to have a capacity of more than 12 million tonnes of cargo and 160 million passengers a year, the initial investment into DWC-AMI is rested at $10bn.
And once operational, the new airport would also be capable of handling all new-generation aircraft such as the Airbus A380 superjumbo, with the airport's first phase being built to accommodate future traffic expansion with a single A380 compatible runway.
Meanwhile, in a statement released with preparations under way for the Airport Show's 2009 edition, Sheikh Ahmed bin Saeed Al Maktoum, President of Dubai Civil Aviation Authority and Chairman of Dubai Airports, said: "As regional civil aviations continue to construct brand new terminals, concourses and runways, and upgrade their existing facilities in preparation for the next generation of super-jumbos, this pace of modernisation creates outstanding opportunities for airport suppliers and contractors."
"With billions of dollars earmarked for airport developments across the Middle East, Africa and the Indian Subcontinent, the region represents one of the fastest-growing aviation markets in the world today."
Follow Emirates 24|7 on Google News.