Al Maktoum International to stimulate growth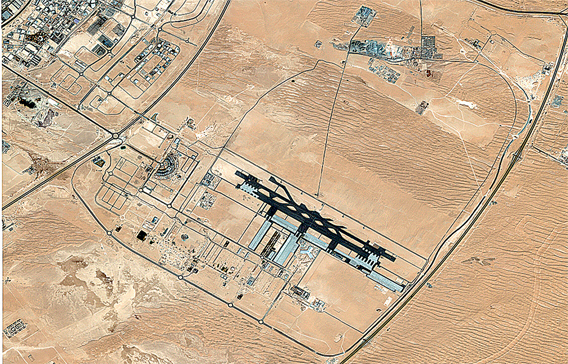 The work on the world's largest airport – Dubai World Central-Al Maktoum International – seems to be in full swing, preparing for the grand opening of the airport on June 27 this year, after facing a year's delay.
Located 40km away from the existing Dubai International airport, the new airport is taking shape in the heart of $33 billion (Dh121.12bn) Dubai World Central development in Jebel Ali.
Besides the DWC-Al Maktoum International, DWC is designed to comprise five more specialised clustered zones: Dubai Logistics City (DLC), DWC Commercial City, DWC Residential City, DWC Aviation City and DWC Golf City.
Designed to have a capacity of more than 12 million tonnes of cargo a year and 160 million passengers a year, the initial investment into DWC-Al Maktoum International rested at about $10 billion (Dh36.72bn).
DWC-Al Maktoum International airport would open for business with freighter operations, according to Paul Griffiths, Chief Executive of Dubai Airports.
"The airport would be opening for freight operations initially and passenger operations will at some stage in the future. It is coming along. We are getting the field far, ready for commissioning and we are pressing on with all the other facilities over there. And we are on track so far for the June 27, 2010 opening," he told Emirates Business.
Once operational, DWC-Al Maktoum International would also be capable of handling all new-generation aircraft such as the Airbus A380 superjumbo.
The first phase of the airport is being built to accommodate future traffic expansion with a single A380 compatible runway, a passenger terminal with capacity of five million passengers per annum expandable to seven million passengers per annum, a cargo terminal building capable of handling 250,000 tonnes per annum expandable to 600,000 tonnes per annum and a dedicated road link to the region's largest port in Jebel Ali, according to Dubai Airports' recent statement.
With Dubai Airports' projected 13.6 per cent international passenger traffic growth in 2010, the first phase of DWC-Al Maktoum International is expected to stimulate traffic when it opens in June, according to Dubai Airports, with approximately one million passengers expected to pass through the airport during an abbreviated operational period in 2010.
But that is just the first phase of the airport. "We are expecting a gradual build-up for DWC because obviously, the main point at DWC is to actually work towards Phase 2 – of the DWC-Al Maktoum International, which will have the 160 million passengers capacity, five runways and airports of the future, which we expect to be have operational sometime by early 2020," said Griffiths.
The new airport, with its first Dh1bn runway to be operational in June, would further be equipped with various concourses and a 91-metre-high air traffic control (ATC) tower which is the tallest freestanding ATC tower in the Middle East. The ATC tower will also be fully equipped with the latest in avionics and navigational aids.
Meanwhile, the Dh100 million first passenger terminal at DWC-Al Maktoum International is being designed to cater to all airline types – cargo, passenger – both full service as well as low-cost carriers and charter airlines among others.
Dubai Airports, the company managing both the airports — Dubai International and DWC-Al Maktoum International, is currently talking to a number of airlines to start operations from the new airport. "We have got a number of them that have expressed interest. We have got a proposition that we have put in front of them, and we hope to be able to make some announcements fairly shortly as to who the initial operators will be," said Griffiths.
Citing the reason for opening the new airport with freighter operations as against passenger operations, Griffiths said: "The freighter operation clearly will give us a good test of the operational facilities and the runway and the control tower and air traffic control. We are not actually committing this point in time to a definite date for passenger operations. But it will be some stage in the future after the freighters have started."
But while Emirates will drive growth at Dubai International for years to come — with the carrier set to remain at the airport — LCCs and foreign carriers may slowly migrate to Dubai's new DWC-Al Maktoum International airport gradually.
"The idea is that both the existing and the new airport will have the capacity and people will have options. So if airlines want to operate from the new airport, clearly we would be delighted to facilitate that," Griffiths had recently said.
Eventually, the new airport will be linked to the existing Dubai International, via an express rail system and ultimately will be serviced by the Dubai Light Railway Network (Dubai Metro). And some 100,000 car parking spaces will be made available for airport parking and car rental services at the new airport.
Keep up with the latest business news from the region with the Emirates Business 24|7 daily newsletter. To subscribe to the newsletter, please click here.
Follow Emirates 24|7 on Google News.