BA counts cost of crew strike, fears new action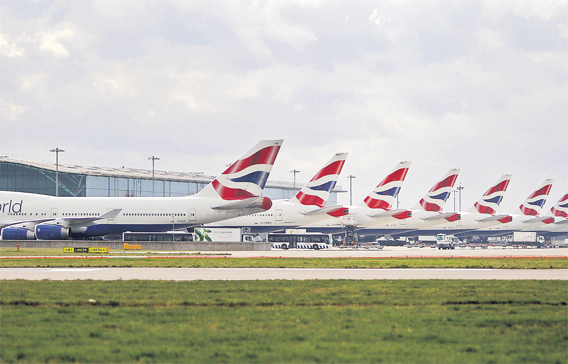 A strike by British Airways cabin crew cost over $10 million (Dh3.67m) a day, the airline said.
The loss-making airline ran 78 per cent of its long-haul flights and 50 per cent of its short-haul flights over the first two days of the strike over planned changes to pay and conditions, it said.
"Contingency plans for the three days of industrial disruption have been very successful," it said in a statement, adding that 68 per cent of seats were filled on long-haul and 69 per cent in short-haul flights. "Current best estimate is that the three-day industrial action will cost £7 million (Dh38.53m) a day," it added.
Referring to a further threatened action including a four-day strike starting next Saturday, it said: "Assessment of the cost of potential future industrial action can only be made after the event.
"As a result, full year earnings expectations to March 31, 2010 remains broadly unchanged," it added.
The dispute centres on attempts by loss-making BA to downgrade its employees' pay and perks packages, which are among the most lucrative in the industry.
BA and the Unite union – which represents its 12,000 cabin crew – disputed the strike's impact at the weekend. The airline claimed it had held up well, but Unite said fewer than 20 per cent of crew had turned up for work.
A full BA service was set to resume at time of going to press after the first three-day action ended – but unless a solution is found, staff will walk out again next Saturday for four days.
Follow Emirates 24|7 on Google News.