Effect of Europe lockdown spreads to Asia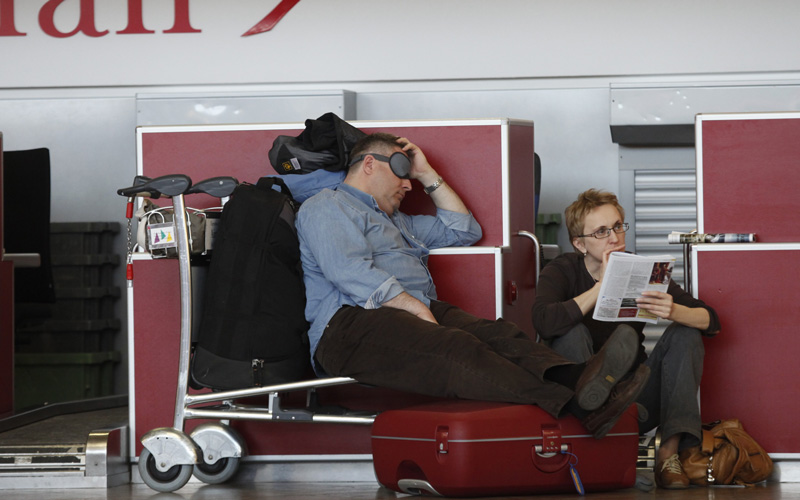 With airports in Europe extending their closure period or beginning a lockdown in the face of ash clouds from Iceland's volcanic eruption, most Emirates and Etihad flights to European destinations are grounded till today.
A statement from Emirates said yesterday: "Currently, Emirates is only accepting passengers for the following European destinations – Moscow, Athens, Larnaca, Malta, Istanbul." However, these, too, were subject to weather conditions, it said.
The airline advised all passengers to check the status of their flights on its website, www.emirates.com before leaving for the airport. It said it is working on a "contingency plan to ensure that we get flights and passengers moving as quickly as possible once airspace reopens".
Etihad, which cancelled all flights to the UK, Ireland, Europe and the Russian Federation, encouraged passengers with travel plans to these destinations to contact their local Etihad office or customer assistance helplines. It said guests who are booked to travel on a cancelled flight during the affected period could rebook on a new travel date, or get a refund. The helpline numbers in the UAE are 800 550 55 (toll free) and +971 25 990 900.
In Europe yesterday, aviation agency Eurocontrol said no landings or takeoffs were possible for civilian aircraft in most of northern and central Europe because of the ash cloud from the volcano that was still erupting. The agency expected 6,000 flights in European airspace – or 27.3 per cent of the normal level for a Saturday.
"Forecasts suggest that the cloud of volcanic ash will persist and that the impact will continue for at least the next 24 hours," the agency said in a statement.
Britain announced extension of a ban on most flights in its airspace until 1800 GMT Sunday due to the ash cloud.
In France, Prime Minister Francois Fillion yesterday ordered the closures extended until Sunday at Paris' Charles de Gaulle and Orly airports and others across the northern half of the country, from Nantes on the Atlantic to Lyon in the east.
In the Netherlands, KLM cancelled all its flights in and out of Schiphol Amsterdam yesterday. A spokeswoman said the closure of Dutch airspace is costing Schiphol Amsterdam Airport "a few million euros" per day.
Scandinavian airline SAS grounded all its flights in the region until after the weekend, with the exception of a handful of domestic flights in northern Norway. According to Danish Boarding.dk, an air travel news site, it was losing around 120 million kroner (Dh70.34m) per day.
Among smaller European countries that closed services are Luxembourg, Romania, Croatia and Slovenia. As the disruption spread, dozens of Europe-bound flights were cancelled in Asia and hotels from Beijing to Singapore strained to take in thousands of stranded passengers.
In Singapore, a major transit point for Europe-bound air traffic, 22 flights were cancelled early yesterday.
The US military had to reroute many flights, including those evacuating the wounded from Afghanistan and Iraq, Pentagon said.
Vulcanologists say the ash could cause problems to air traffic for up to six months if the eruption continues. The financial impact on airlines could be significant.
Follow Emirates 24|7 on Google News.