Emirates and Etihad take off to Tokyo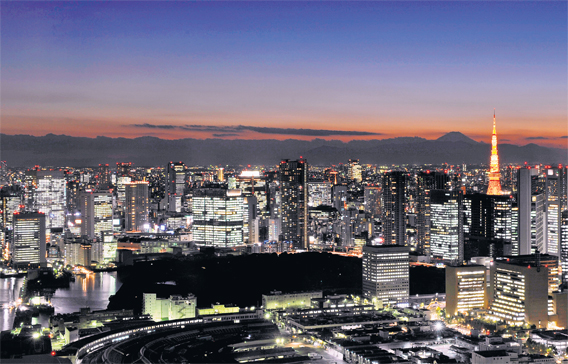 Middle East carriers are one step closer to tapping into the lucrative Japanese market as both Emirates and Etihad Airways launched their flights to Tokyo yesterday, with Qatar Airways following suit on April 26.
Emirates will operate five weekly flights to the Japanese capital, adding to its daily service to Osaka that was launched in 2002.
While Etihad Airways did not divulge the load factors it expects from the Japanese route, Emirates said in a statement earlier it is expecting its seat factor to be more than 80 per cent on Tokyo route during its first year of operations.
Richard Vaughan, Divisional Senior Vice-President, Commercial Operations Worldwide, Emirates, said in a recent statement: "We have a great deal of experience in serving Japan and we are confident of robust demand for our Tokyo services.
"There is already a solid demand from Tokyo. Almost 75,000 passengers from the Kanto area travelled to Dubai between 2008 and 2009 using our Osaka flight. We are happy to be able to offer a non-stop route for these passengers through our Narita [Tokyo] service."
Meanwhile, Abu Dhabi-based Etihad will also operate five non-stop flights per week to Tokyo, in addition to the five flights per week it offers to Nagoya. [Emirates pulled out of Nagoya in February last year, having launched in 2006, as the route had proved to be uneconomical and the airline had "no plans" to reinstate the service on that route according to an Emirates spokesperson earlier].
James Hogan, Etihad Airways' Chief Executive Officer, said Etihad was expecting a high volume of traffic on the route, particularly business travellers.
He added: "Japan is a key market for Etihad and will be an important focus in 2010. We have worked closely with the Japanese Government to enable us to start services between our two capital cities, and we thank them for their support."
Etihad's Tokyo services follow the commencement of the airline's flights to Nagoya in February this year and code-share services with All Nippon Airways this month.
The Doha-based Qatar Airways, which already flies to Osaka, will jet into the Japanese capital daily, representing a significant increase in capacity for the Japanese market. Qatar Airways Chief Executive Officer Akbar Al Baker said in a statement: "Tokyo is Japan's commercial and financial centre and has been on Qatar Airways' wish list of destinations for a number of years. It is only now that we are able to serve Tokyo due to new traffic rights and slot availability at the city's main Narita International Airport."
According to industry figures, trade relations between Japan and the UAE have grown by 300 per cent to more than $57 billion (Dh209.3bn) in 2008 from $14bn in 2002.
Currently, there are about 350 Japanese companies operating and more than 3,500 Japanese expatriates living in the UAE.
While the UAE-based carriers are benefitting from this growing business, another opportunity that has opened more avenues for these carriers is the downfall of Japan Airlines earlier this year; the carrier filed for bankruptcy protection in a highly publicised media blitzkrieg, with ¥2.32 trillion (Dh95.5bn) in liabilities.
JAL also had announced it would cut international and domestic routes, including eight flights on routes from Tokyo to New York-Sao Paulo and Shanghai, besides nine other routes inside Japan. At the time, Richard Jewsbury, Emirates' Senior Vice-President Commercial Operations for the Far East and Australasia, had told Emirates Business: "Japan Airlines is a longstanding partner. We have a code share agreement with JAL on our existing Osaka daily service. This partnership will be expanded to include a code share on the new Dubai-Tokyo-Dubai service.
"We have no intentions of cancelling the code-share agreement as it delivers significant value to both Emirates and JAL," he said.
Follow Emirates 24|7 on Google News.