Bvlgari says new offering has the winning formula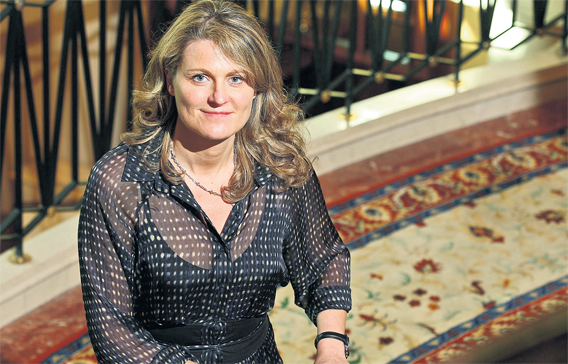 Italian jewellery and luxury goods maker Bvlgari is unleashing a range of new skincare products into the UAE market.
A growing segment in the company's portfolio of products, that also includes fragrances and make-up, the skincare line which was launched in 2007 was a logical development for the company, says Dr Laurence Laubreaux Roberty, Bvlgari Skin Care's Senior Director.
"Usually, skincare is the second leg of the beauty business and makeup comes third, but we have chosen to do it this way," she says.
Currently exclusively available at Harvey Nichols in Mall of the Emirates in Dubai, the latest range will go on general sale later this year at all leading department stores. Priced from Dh190, there are 37 products in the collection, ranging from serums to crèmes and sun protection – all with a unique gem formula.
Bvlgari uses precious stones in all its products, which its scientists say have great healing powers for the skin. "We studied all the stones but found that sapphire, tourmaline, citrine and amethyst have specific properties for the skin," explains Laubreaux Roberty. "We have discovered that some stones emit energy, which is then absorbed by the skin. It helps improve circulation and gives radiant skin of microcirculation."
This, Laubreaux Roberty says, is akin to the skin of babies but as we age and become exposed to pollution and stress, circulation decreases making skin appear tired and dull. In a region where whitening products have proved popular, Bvlgari says it is using the ingredients in its latest range, Blanc Originel, for health rather than cosmetic reasons.
"There is so much sun in Dubai. Every day it causes corrosion of the skin, so we need to fight against these pigmentation disorders," Laubreaux Roberty adds.
Scientists at the Cosmetic Research Department of Bvlgari in Geneva spent five years developing the skincare range ahead of its launch in Italy in 2007.
It was then rolled out worldwide from the next year and follows successful make-up and fragrance lines, which have seen the brand flourish for more than 100 years. The company also operates two spas at its resorts in Milan and Bali, where guests can enjoy the full Bvlgari experience.
"Plants have been used for a long time but minerals are just starting to be explored, so we wanted to continue our research in this field. The products contain precious stones but they also have active ingredients to repair and protect the skin against both UVA and UVB rays," Laubreaux Roberty explains.
"We know that it's new and innovative and efficient so we want to keep them in our products but will continue to study the gemological field.
"Depending on how you use diamonds, they are the strongest stone you can find but if you use them in an exfoliator, for example, they're too strong for the skin. The skin needs to be balanced but when you exfoliate it with too strong balls it is aggressed and will, therefore, react so for us, they're not the right solution."
Instead, the company uses pearls as they will not crush the skin but Laubreaux Roberty says diamonds can work in make-up as they reflect the light giving a brighter complexion.
With 20 years' experience in the cosmetics industry, Laubreaux Roberty knows a thing or two about skin care and at 45 has the skin of a much younger woman. She joined Bvlgari in 2005, a couple of years into its research programme but has overseen the brand's roll out around the world.
She was in Dubai recently for the launch of Blanc Originel at the city's Ritz-Carlton hotel but admits the Precious line is her favourite because it "targets my age and when you use it, you can see the difference in one month".
Although a number of skin care companies soon branch out into male products, Bvlgari is shunning this population for now to concentrate on providing more to existing customers. "We're always doing research in the anti-ageing field because it's such a growing market so we keep trying to find new innovations. And although we don't make products specifically for men, we have found they use them any way, particularly the emulsion and eye control crème."
The all-important gemstones are sourced from Brazil and Zaire but the company says it is not just this expensive element that makes the product but the whole package, including the jars and the fragrances.
"The typical Bvlgari customer is someone who is very demanding and wants the best as well as efficiency but at the same time wants pleasure and her dreams to happen," says Laubreaux Roberty.
"That's why radiance is essential and our min property and it's the thing everyone wants – no matter how old they are. We provide rapid results and that's what customers want so there are no constraints in terms of money when developing new products and we know we have chosen the best."
Keep up with the latest business news from the region with the Emirates Business 24|7 daily newsletter. To subscribe to the newsletter, please click here.
Follow Emirates 24|7 on Google News.