Consumers lose appetite for gold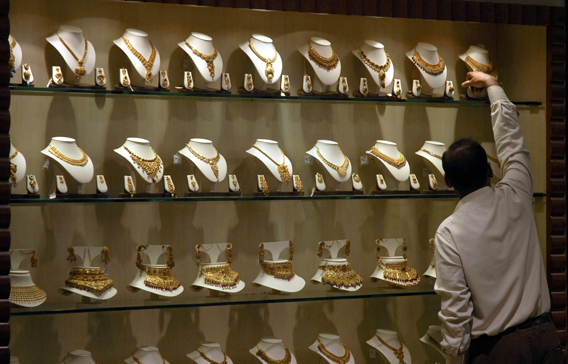 Retail gold sales volumes in Dubai registered only a slight improvement in the first quarter of this year compared to the same period last year, as consumer confidence has not fully recovered, retailers said.
Branded as the city of gold, Dubai has seen weak demand from the retail sector over the past year, as the high price of gold coupled with the economic slowdown curbed consumer spending.
"There's a slight improvement this quarter, but there is still fear in people's minds that is holding them back from buying any luxury items, just walk around the souks and malls you will find them full, but not a lot of people are buying high value items," said Naheed Anees, director of jewellery at Dubai-based ARY Jewellers, one of the largest retailers in the emirate.
Spot gold was bid at around $1,125.95 yesterday against $1,129.70 late in New York on Monday, when it rose as high as $1,133.20 an ounce, its firmest since early March.
"I think that during the first quarter of this year we have seen an improvement in Dubai retail sales, but this by all means is not a full recovery from what volumes were prior to the economic slowdown," said Pradeep Unni, senior analyst and trader at Richcomm Global Services in Dubai.
"We have to remember that the first quarter of 2009 was in the eye of the storm so a slight improvement from that is not saying a great deal," he added.
Some retailers believe that a drop in gold prices will be the main factor to encourage cash strapped consumers to start buying again.
"The price is still high right now and people are still not certain about splashing out on jewellery purchases so this uncertainty is what's keeping demand low," said a salesman from Shyam Jewellers based in Dubai's old gold souk.
Price volatility is also seen as a major factor that impacts retail purchases, said Jeffrey Rhodes, Chief Executive of INTL Commodities DMCC, an independent financial firm based in Dubai.
"I'm feeling very positive about this year because price volatility is not half of what it was last year, and so far I see that gold trade in Dubai in general has increased by around 30 per cent in Q1 compared to Q1 last year," he said.
Demand in the UAE fell 33 per cent in full-year 2009, a little higher than the average fall of 31 per cent in the GCC.
Follow Emirates 24|7 on Google News.