Copper at 20-month high and likely to rise further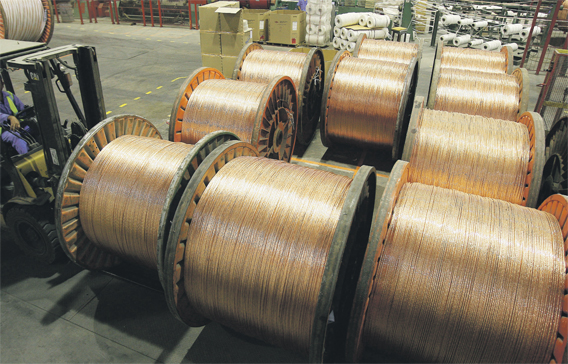 Copper hit a 20-month high above $8,000 (Dh29,383) a tonne yesterday due to robust US jobs, service sector and housing data which lifted the outlook for base metals. Copper for three-month delivery on the London Metal Exchange traded at $7,970 a tonne in official rings, from $7,885 at the close on Thursday.
The metal used in power and construction earlier hit $8,009.75 – its highest level since August 2008 – after resuming trade following the four-day Easter holiday weekend. "It was the good economic data in the United States," said Eugen Weinberg, an analyst at Commerzbank, pointing to unemployment data last week. "The data we've been recently seeing, continues to point to a continuous strong, robust recovery."
Non-farm payrolls rose 162,000, the US Labor Department said on Friday, the largest number of jobs added in three years in the world's largest economy.
Other data showed the US services sector grew at its fastest pace in nearly four years in March and future home sales unexpectedly rose in February bolstering hopes for sustainable economic recovery and job growth. Copper rose 5.5 per cent in the first quarter as a combination of improving macro data, a weaker dollar, and fund and Chinese buying supported prices.
But gains are weaker than in 2009, when copper jumped 140 per cent, with investors now fretting about the prospect of further monetary tightening from top metals consumer China.
Last week, data showed that China's vast manufacturing sector picked up speed in March, and could spur further policy tightening. On Tuesday's economic calendar, the US Federal Reserve is due to release its latest policy meeting minutes at 1800GMT, which may offer further clues on monetary and fiscal policies.
Also boosting industrial metals prices in recent weeks, have been falls in LME warehouse stocks, coupled with rises in cancelled warrants – material earmarked for delivery.
But latest data showed that copper stocks, which fell throughout March, rose 125 tonnes to 512,575 tonnes. And copper cancelled warrants were at 16,125 tonnes compared with 29,800 tonnes on March 1, suggesting that the economic and demand recovery may be slow and protracted.
"You used to be able to think that a big pick-up in cancelled warrants was metal being moved for consumption," said David Wilson, Director of Metals Research at Société Générale.
"But it's never a clear picture these days – with more speculative elements moving metal from one side of the line to the other." Aluminium traded at $2,357 versus a final bid at $2,351 on Thursday. It earlier hit a three-month high of $2,375.
Steel-making ingredient nickel was untraded in rings but was quoted at $24,645/24,650 from $25,050 while battery material lead was quoted at $2,255.0/2,255.5 from $2,190.
Speculators have been active in the nickel market in recent weeks, with last week's LME data showing a dominant position controlling between 50 per cent to 80 per cent of cash warrants.
The discount between the cash and three-month contract, at $39 a tonne, is more than half $83 on March 1.
Follow Emirates 24|7 on Google News.