High gold price fails to dent jewellery market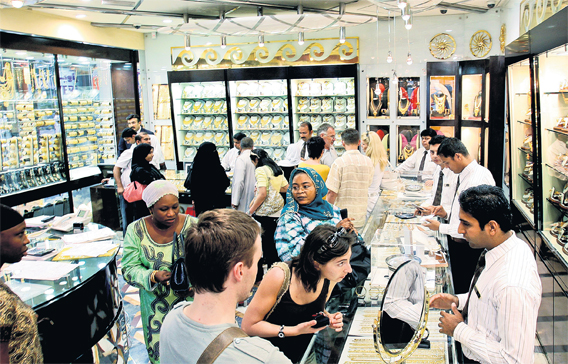 A sustained rise in gold price and expectations of it touching a new high in the short term have not impacted jewellery sales in Dubai, two gold dealers said.
The bullion, which traded on $1,159.95 an ounce when the markets last closed is expected to touch $1,180 an ounce in the short-term Dubai-based analysts said. Retail 24 carats gold sold at an average of Dh137 per gram in Dubai yesterday.
"If you compare sales in April with the level in January, I would say that they have been good," said Dilip Dhakan of Hyatt Jewellers at the Gold Souq in Dubai. "We have not seen a drop in sales as the gold prices began rising in March." Dhakan's retail outlet is a part of Dhakan Jewellers that has a chain of jewellery shops across the emirate.
The trend marks a breathing space for the struggling jewellery markets in Dubai. The demand for gold in the UAE, dropped 33 per cent in 2009 (y-o-y), World Gold Council (WGC) said recently. While the demand for gold in the country stood at 109.5 tonnes in 2008, it dropped to 73.9 tonnes in 2009, the figures showed.
The drop in jewellery demand in the UAE stood at 32 per cent in the last quarter of 2009 as compared to the last quarter of 2008, according to the WGC.
Harish Pawani, a supplier of gold to jewellery markets in Dubai, said that he has not witnessed a drop in demand for gold in the past four months. "The retail buyers have factored in these gold prices. Demand has been pretty stable for the past three months. The fact is that gold has been strong for quite a long period of time now and retail buyers cannot afford to wait," Pawani said.
He said that it's retail buyers from the Indian subcontinent who are propelling the demand for gold. "They have a larger contribution than the tourists because Indian expats tend to buy jewellery when they leave for holidays. And Indian festivals and celebrations are linked with gold."
Fahim Rashid, the Head of Marketing (Middle East) with GTL Trading said gold can touch $1,180 an ounce in the short term. "It's expected to drop once it touches that level," he said, adding that a sustained rally in gold has forced investors to buy into the slightest dip in gold prices.
"Nobody wanting a strong investment into gold should wait for the prices to crash," said Rashid.
Investments into the bullion are peaking this year right when the price is attempting a new high. The world's largest gold-backed ETF, New York's SPDR Gold Trust, said its holdings rose nearly 10 tonnes to a record 1,140.433 tonnes on Thursday, its biggest one-day climb since September, Reuters reported.
Recently gold has tested limits beyond $1,160 an ounce and it rose to its highest level this year on Friday as a downgrade of Greece's debt rating ignited fears over the euro zone's financial stability, prompting buying of the metal as a haven from risk. Spot gold peaked at $1,161.90, a four-month high on Thursday. Intra-day high of gold has regularly crossed $1,160 an ounce in commodity exchanges across the world.
Follow Emirates 24|7 on Google News.