Al Habtoor eyes Kuwait, Saudi projects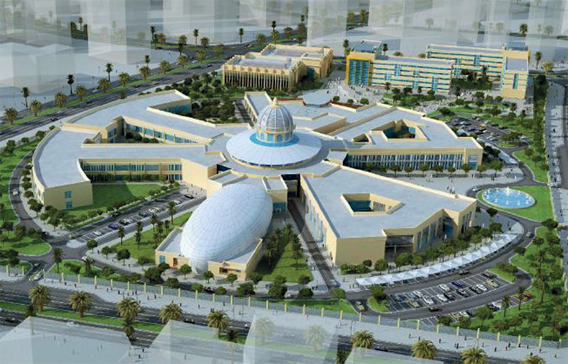 The Al Habtoor Leighton Group is expecting revenues of $4 billion (Dh14.6bn) this year and will finalise the setting up of two wholly-owned subsidiaries in Kuwait and Saudi Arabia by April, said a senior official.
"We still have a $6bn market for this year, the same as in 2009. In terms of revenues, we are expecting $4bn in 2010," said Laurie Voyer, Managing Director, Al Habtoor Leighton Group.
He told Emirates Business that the company is also waiting to hear some positive news from Kuwait on the airport project.
According to market sources, the Al Habtoor Leighton Group has also prequalified on the Arzanah Medical Complex, Abu Dhabi; the Zayed National Museum, Abu Dhabi; the Doha Port, Qatar; the Kuwait Airport runway redevelopment, Kuwait City; the Louvre Museum, Abu Dhabi and the Adnoc HQ in Abu Dhabi.
Voyer has more than 35 years' senior management experience in the construction industry and his extensive experience incorporates some of Australia's largest civil infrastructure, building and mining projects for both the public and private sector. He was appointed to his current position in October last year.
You had recently said that you are looking at two joint ventures in Saudi Arabia. Can you elaborate on the nature of these ventures?
We have a very good relationship with the Al Rajhi Group and we are in early discussions with Saad Constructions. We are not doing any JVs but will work with them on a project by project basis. We have backtracked a bit, to go forward in a stronger way and are now setting up the right corporate structure. When we go to any country, we explore the possibility of setting up a wholly-owned subsidiary from the Dubai ownership that will establish a flagship entity in each country.
That business will then form a joint venture with a company on project to project basis in an exclusive arrangement. We don't want to be caught having an exclusive joint venture in any new market that locks us into working with that party.
We discovered that if we quickly jump into working with a joint venture partner, then that might not be the right relationship for all of the opportunities that we see in those new markets.
So when and where will you start?
We will start with Kuwait and Saudi Arabia right now. By the end of next month, we will have both the entities registered and completely able to conclude the joint venture.
Where next?
In Tripoli (Libya), by end of June-July. Besides that, we are also looking at Oman and Bahrain.
What is the situation on your receivables from the market?
We have come to an agreement with a number of receivables but are still not in a comfortable position.
We do not see any recovery for a couple of years in some cases.
Let us keep that figure under the blankets but it is a manageable figure.
How is the market in Abu Dhabi?
The Abu Dhabi market has also slowed down a bit. It is not happening as fast as people expected it to happen. The Tawaam Hospital was taken off the list, Cleveland was awarded only recently and a number of tenders we have put in seem to be taking an extraordinarily long amount of time to evaluate and redesign.
Masdar has also taken a long time. The market could feel a little disappointment at the amount of time taken by the pace of announcements and awards in Abu Dhabi. Al Ain University is out there at the moment (see box). We are also looking at a number of infrastructure projects in terms of the bridges. The market is getting a bit overcrowded.
What is the strategy of dealing with the value engineering and retendering mode?
We are going with the market flow.
Have you seen any changes in the kind of contracts?
Some of our customers are trying to ask for PPPs and Built Own Operate and Transfer (Boot) and we are ready to respond if the market needs that.
You recently said that the company was taking third party reviews seriously on projects due to certain construction defects that cropped up. What did the findings reveal?
We are doing this across all our projects. We are finding that some of the initial assumptions made at the tender compressed period were a little too skinny. With further evaluations, we have had to accept some intermediate positions from an integrity, stability and deflection point of view. We have to make sure that we stay in terms of consistency across all projects.
What about doing business in Qatar, Kuwait and Turkmenistan? You seem to be involved in some key airport projects.
There are some projects that we are looking at very closely and the business is still very robust in Qatar but not in terms of volume like in Abu Dhabi. We are hoping to get some news on the Kuwait Airport and the government has approved all the steps. In Turkmenistan, the project is on hold and the government is considering a new site. In terms of the Equestrian Centre in Qatar, we expect to hand over the main arena in late September this year. It is a significant project for us with a value of around QR2.7 billion (Dh2.7bn).
The midfield terminal in Abu Dhabi has asked for qualifications and we are keen on that project.
What about the proposed IPO from the Al Habtoor Group? If it takes place, how will that affect the Al Habtoor Leighton Group?
It is not up to me but to the shareholders to make that call. But it is not of any urgency to our shareholders at the moment.
The announcement then made was that the Al Habtoor Group would consider an IPO and part of that would include the shareholding in the Al Habtoor Leighton Group. There is no formality being addressed to that effect at the moment.
The Projects
- $1.8 billion St Regis Hotel, Abu Dhabi
- $1.4 billion Khalifa Port project, Abu Dhabi
- $800 million Zayed University, Abu Dhabi
- $680 million Jafza Convention Centre, Dubai
- $550 million Al Shaqab Equestrian centre, Doha
- $500 million Landmark building, Abu Dhabi
- $400 million Sorbonne University, Abu Dhabi
Keep up with the latest business news from the region with the Emirates Business 24|7 daily newsletter. To subscribe to the newsletter, please click here.
Follow Emirates 24|7 on Google News.