Cement industry to grow 20% as most projects stay on schedule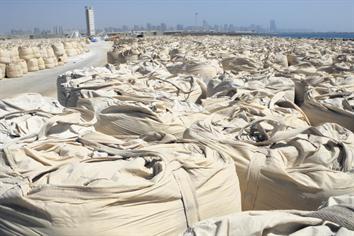 The cement industry in the UAE will continue to remain stable during 2009 as construction work on most ongoing projects is expected to continue without disruption, experts said.

Industry reports estimate that the industry would register a growth rate of 20 per cent during 2009.

Prices of cement are also said to have marginally fallen following a decline in global demand and falling oil prices.

Ready-mix and concrete companies yesterday expressed concern about the current economic scenario and said that they were cutting production by almost 20 per cent.

However, other major cement companies yesterday denied reports that they had reduced production

Some others were optimistic that the demand within the UAE would continue to remain stable and that would include prices.

Mustafa Gorgunel, General Manager of Union Cement Norcem, told Emirates Business that the 2009 drivers for the sector would be infrastructure and the construction projects going on in the UAE.

"If existing construction continues in 2009, the situation will be stable. But, in 2010, together with new capacities there might be a glut," said Gorgunel.

"On the other hand, in case the financial crunch eases by the end of 2009, the postponed projects can be re-vitalised and then the cement consumption would start rising rapidly again," he added.

A recent Al Mal Capital report on the cement sector in the UAE also predicted a similar situation. Based on the most probable construction forecast of cement consumption estimates and expansion plans of cement and clinker producers, Al Mal envisages the production of cement to surpass consumption at the end of 2010 and beginning of 2011.

While anticipating a growth of 20 per cent in 2009, the report says cement sector will experience a minimum growth of 15 per cent during the year.

According to Gorgunel, the UAE cement market showed a good improvement in 2008. "The total cement consumption of 17.24 million tonnes in 2007 went up to 21 million tonnes in 2008. Also daily sales of the cement producers group went up to 77,882 metric tonnes, which was the highest ever. It was around an average of 52,000 metric tonnes a day in 2007," he said.

UCC performed quite well in 2008, despite the fluctuations in the production due to the commissioning of the new cement mills, he said. The company almost doubled cement sales touching three million tones in 2008 compared to 1.5 million tonnes in 2007.

"UCC also supplied 160,000 million tones of clinker to the domestic producers when it had extra quantity," he added.

According to him, the main reason for the shortage in the first quarter of 2008 was the very high clinker import cost, which reached $95 per tonne.

"This did not allow the grinders to produce in full capacity. The increased cost of fuel, diesel, power and transportation also made the margins slimmer and especially the grinders were not able to run full production. Another reason was maintenance carried out in some factories, which, also led to lower production of cement," said Gorgunel.

The UAE is a net importer of clinker and according to Al Mal report, the majority of capacity coming online in 2009 is only for cement grinding plants.

According to estimates, UAE produced 15.3mtpa of clinker in 2008. At 100 per cent utilisation, the UAE is capable of producing 24.9mtpa of cement (in reality utilisation is approximately 90 per cent). The shortfall of 9.6mtpa of clinker was met from clinker imports.

In 2009, the report estimates an increase in grinding facilities of 3.9mtpa compared to an increase in clinker production of 4.8mtpa, decreasing the shortfall from 9.6mtpa to 8.7mtpa. And assuming the cement factories operate at 90 per cent utilisation, the report estimates production of 35.6mtpa compared to consumption estimate of 31.1mtpa.

According to an official of a Ras Al Khaimah cement company, most companies are aware of the existing situation as a result of the global financial crisis.

"Several new projects are either cancelled or are being postponed. Cement producers so far have not cut productions. But necessary adjustments are being made to cater to the market demand. The next two months will determine the future of several projects and that is when a final assessment can be made," said the official.

"Every player is aware of the global financial crunch and the cancellation and or postponement of some construction projects, mainly in Dubai. Players are being more cautious about 2009. But, overall, in terms of sales, the last quarter of 2008 was the highest quarter compared to the previous quarters," said Gorgunel

But some ready-mix companies said their production levels are almost down by 20 to 25 per cent.

According to Charanjeet Singh, Assistant General Manager at Unibeton Ready Mix, production has been reduced to 380,000 cubic metres this quarter compared to 400,000 cubic metres during the last quarter. "Last year, the demand had significantly increased and we had to increase our production from 350,000 cubic metres to almost around 380,000 and then to 400,000 cubic metres. But work on many projects has stopped, which has had an impact on our production levels," said Singh.

According to him, it is too early to predict how 2009 would end. "We are all hoping that things will improve," he said.

He added that prices however continued to remain the same.

"Despite a slowdown and a reduction in demand, prices have not fallen, mainly because the production cost remains the same. Although the price of diesel has fallen, it has hardly reduced our production cost," said Singh.

Ajay Mathur, General Manager of AAC Cement said the demand continues to remain the same and the company continues to produce 1300 cubic metres of concrete blocks every month.

"We are operating at full capacity and 2009 will see a stabilisation of the cement sector in the UAE. With the government having fixed the price of cement, the raw material cost is not expected to change. The production cost could reduce by almost 10 per cent due to various factors, including the reduction in the price of diesel. But it will, at the most, prevent any future hike in prices," said Mathur.
Follow Emirates 24|7 on Google News.