Flat steel prices rise 8% in February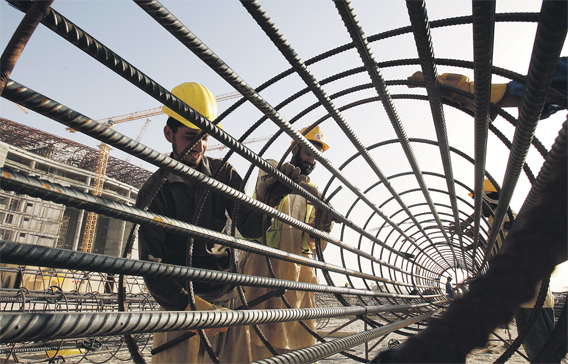 The average prices of building materials for the month of February revealed an eight per cent increase in flat steel (Dubai) for the month of February with prices rising to Dh2,700 per tonne against Dh2,500 per tonne in January, according to the Statistics Centre of Abu Dhabi (Scad).
However, Turkish steel prices shot up by 20 per cent to reach Dh3,000 per tonne in February against
Dh2,450 per tonne in January. Small steel beams from Korea dropped by 10.4 per cent per tonne from Dh3,500 in January to Dh3137.5 in February.
Readymix concrete (normal neutin 40) dropped by 10 per cent to Dh270 in February from Dh300 in January while sulphate resistant concrete readymix stayed stable at Dh275 per cubic metre during both the months. Prices of sand and aggregates remained stable.
Cement prices showed fractional rises except for Portland cement (see table). Bitumen 60/70 dropped by 5.5 per cent from Dh2,100 in January to Dh1,985 in February. Corrugated light eight feet zinc sheets from India showed a 5.3 per cent rise from Dh 16.5 in January to Dh 17.4 in February.
Prices of all tiles for floor and wall remained stable but prices for 20x20 sq mt ceramic tiles from Spain registered a drop of 10 per cent from Dh51.7 in January to Dh46.5 in February. Similarly, prices for 20x20 sq mt ceramic tiles from Italy dropped by 13.4 per cent to Dh48.5 in February from
Dh56 in January, according to the Scad report. Stone, marble and terrazzo tiles all remained stable.
Red timber, white wood, white plywood, and red teak faced plywood prices showed small dips except for small red timber Keruin from Malaysia, which registered an eight per cent rise from Dh60 for a sheet to Dh65.
The 18mm marine-resistant plywood sheets dropped by 6.1 per cent from Dh119.5 in January to Dh112.3 in February. Bathroom sets with accessories remained stable in terms of prices but sets without accessories all rose from 8.2 per cent to the highest rise being a 22.3 per cent jump for coloured sets from Ras Al Khaimah.
While prices remained stable for drainer and bowl sinks, prices showed a drop for water heaters between seven to nine per cent. Water fiberglass tanks also showed a drop of between 17.5 to 20 per cent, wherein 1,500 gallons water tanks fell from Dh3,000 in January to Dh2,400 in February and 1,000 gallons water tanks fell from Dh 2,000 in January to Dh1,650 in February.
Prices for PVC pipes for the water and sewage sector remained stable. This was also the case with false ceilings, paints and glass.
Follow Emirates 24|7 on Google News.