GCC construction contracts up 11.4% in 2009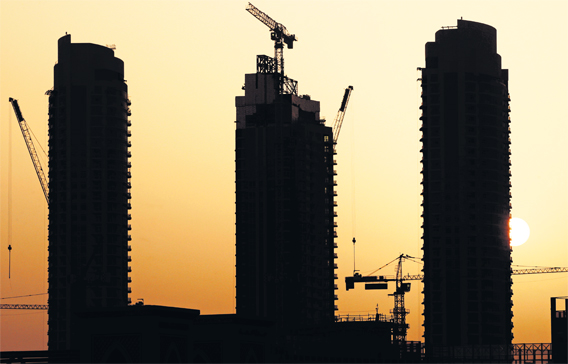 Construction contracts awarded in the GCC increased a total of 11.4 per cent to reach $142.4 billion (Dh522.98bn) in 2009.
Surprisingly, despite the gloom and doom scenario, Q4 2009 recorded the highest value of contract projects awarded in 2009, totalling $61.6bn, a 63 per cent increase from Q3 2009. The months of December and July 2009 witnessed the largest single-months construction contracts awarded in terms of value (see table). Just December witnessed an immense $45.8bn of contracts while July contracts were at $24bn, according to the GCC Cement Sector Quarterly released by Global Investment House.
However, Q3 2009 witnessed the highest increase in construction awards, increasing by 209 per cent to reach $37.7bn. The average contracts awarded in 2009 were $11.8bn as compared to $10.6bn in 2008.
But the concern is that supply exceeds demand. With more than $2.28 trillion worth of projects as of December 2009 in the GCC, 26 per cent amounting to $593bn have been put on hold. "Remaining conservative, if out of these 74 per cent active projects, 45 per cent are business and construction related and run with an average cement price of $70/tonne, we expect annual cement demand in GCC to be 93 mtpa [metric tonnes per annum] during 2010-2017, whereas supply would cross 123 mtpa by 2011," warned the report (see table).
Slashing prices to win
In 2009, Saudi Arabia had the heftiest size of active projects in the GCC, totalling $618.5bn, of which 8.5 per cent were on hold. Saudi Arabia and the UAE have the largest market share of active projects totalling 33.6 per cent and 30.7 per cent, respectively, followed by Kuwait and Qatar with a respective share of 13.4 per cent and 13.2 per cent.
Cement prices in the GCC averaged about $73.3/tonne in 2009, as compared to $83.2/tonne enjoyed in 2008, an 11.9 per cent decrease. During H1 2009, average cement prices for the GCC hovered about $78.8/tonne, but witnessed a seven per cent decline to end 2009 at $73.3/tonne due to the fact that demand went down considerably and companies started to slash prices to win contracts.
Many cement manufacturers in the region are curtailing their cost by putting multi fuel burners and by opening facilities near to raw material quarries.
"Most of the UAE cement companies are focusing more on these measures and we expect if the prices and utilisation rates continue to decline, more and more cement manufacturers would be focusing on cost-control measures. Along with that companies are integrating backward by acquiring stakes in packaging business and power plants and integrating forward by opening up their own transportation channels or by acquiring stakes in port facilities," said the report.
Over the past years, the GCC's cement sector witnessed the entry of a lot of new players. Those players raised the capacity of cement from about 48 million tonnes in 2005 to as high as 96 million tonnes in 2009. This capacity is further expected to rise to 123 mtpa by 2011. Listed cement companies would have a market share of 74.4 per cent in 2011 as compared to 78 per cent in 2009. The capacity of unlisted cement players would increase to 31.5 mtpa by 2011 as compared to merely 3.7 mtpa in 2006.
On the other hand, cement demand is not increasing in unison with the increase in supply mainly due to various local and international events, said the report.
The GCC cement sector witnessed a strong year following the credit crisis wave that halted major real estate activity and construction projects, affecting cement and building materials companies. GCC cement companies came out robust and announced a 6.5 per cent increase in profits for the year 2009. Net profits increased from $1.4bn in 2008 to $1.5bn in 2009. Net margins witnessed a 325.1 bps increase during the period due to the fact other income segment witnessed a $152.7m loss in 2008, which later converted to a $192.2m profit in 2009. However, gross margins witnessed a 254.2 bps decrease in 2009 as compared to 2008 to reach 36.3 per cent. This was due to a lower sales revenue, which decreased by 4.6 per cent in 2009 to reach $4.7bn.
What 2010 holds
During 2009, financial performance of GCC cement companies remained mixed. Saudi Arabian, Omani and Qatari cement companies performed well compared to their peers. The worst performers during the period were UAE cement companies. Sales revenue in Saudi Arabia was the highest at $2bn, up by two per cent compared to 2008.
The UAE cement sector revenue went down by over 26.5 per cent to $1.24bn. The revenue of Qatar, Oman and Kuwait was higher compared with their previous year. Cement prices in the GCC averaged about $73.3/tonne in 2009 compared to $83.2/tonne enjoyed in 2008, a 11.9 per cent decrease (see table).
Planned projects reached $269.7bn as compared to $303.9m at end of 2008. In January 2010, the Kuwait Assembly approved a five-year $125bn development plan, which will be implemented in April 2010.
Saudi cement capacity increased by 6.4 per cent to 47.5 million tonnes in 2009, which further intensified competition in the Saudi market. The capacity is further set to increase in 2010 with the expansion of existing players and arrival of new player's – Al Jouf Cement and Al Safwa Cement – in 2010. There will be further pressure on cement prices in 2010 with clinker and cement stocks at 11.4 million tonnes as at the end of 2009, indicating that cement companies have not been able to sell their whole produce and might look to clear away the excess inventory. "However, we believe that even if the cement ban is completely lifted in 2010, there will be limited export opportunities [for Saudi Arabia] due to capacity expansions in neighbouring countries and tough competition in the export markets." said the report.
Value of projects in the UAE as of December 2009 is $968.1bn, 42.9 per cent of the project value announced in the GCC. However, majority of the projects amounting to 46.6 per cent ($450.9bn) have been put on hold, making it second biggest projects market in the GCC after Saudi Arabia. Consolidated revenues of the sector were down by 26.5per cent to $1.2bn during 2009 as compared to $1.7bn at the end of 2008. The reason for the decline in revenue was fall in cement sales volume as well as a sharp drop in cement realisation prices. "We believe cement prices will remain further under pressure in the UAE because of ramping up of the capacity by the regional as well as local players," noted the report.
Follow Emirates 24|7 on Google News.