Gulf Extrusions eyes 2012 to start Abu Dhabi venture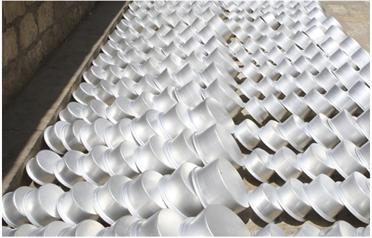 Gulf Extrusions, one of the largest aluminium extrusion plants in the Gulf, expects to start production on its Dh400 million JV in Abu Dhabi in the first quarter of 2012, a senior official said.

"We are in negotiations with Masdar and will finalise our plans to appoint their consultancy services by February to measure our Dubai plant as a benchmark for the plant in Abu Dhabi," said Modar Al Mekdad, General Manager at Gulf Extrusions.

The project is a 50-50 JV with Abu Dhabi Basic Industries Corporation (Adbic) to produce high-end architectural systems and automotive and engineering extrusions, using environmentally friendly processes. Under the preliminary agreement, Adbic and Gulf Extrusions are set to start construction of the plant in the third quarter of 2010.

Meanwhile, Gulf Extrusions is considering the feasibility of its existing Qatar manufacturing venture. "We will decide by the first quarter of 2010 whether to go ahead or not," he added.

Mekdad told Emirates Business that the company plans to set up a new firm in Abu Dhabi to improve products and find new uses for aluminium. "By the first quarter of 2010, we will announce the name of this joint venture with the Abu Dhabi Government."

When is the plant in Abu Dhabi expected to start production? How does this compare to the plans for the existing plant in Qatar?

Our extrusion plant in the Aluminium Park at Al Taweelah will help us in our growth plans. Meanwhile, we are revisiting our plans for the plant in Qatar, which we set up in the first quarter of 2008. The Abu Dhabi plant will have capacity to produce 50,000 tonnes a year of aluminium extrusion and extrusion-based niche products.

Feedstock for the plant in the form of aluminium billets and liquid aluminium metal will be sourced from the almost completed 718,000 tonne-a-year Emirates Aluminium smelter nearby.

The extrusion project is the second downstream scheme planned by Adbic in Abu Dhabi using Emal output after the launch of United Cables earlier this year. Emal is a 50:50 joint venture between Abu Dhabi's Mubadala Development and Dubai Aluminium, or Dubal.

What are the specifics of the environmentally friendly aspect?

It will be one of the unique plants in the world in terms of carbon footprint and will cater to sectors different to those catered to by the extrusions industry. It will serve the European market.

Normally, to produce one kilo of aluminium, you will create 10kg of waste. We plan to reduce that by 70 per cent by recycling the material instead of throwing it to the landfill.

In terms of process, it will be ventilated using wind energy and lit using solar energy. It will use recycled steel and machines that will consume less electricity by using software to control idle times. Packaging will be recycled. The whole value chain will implement conservative measures related to the environment. Today we are already supplying to the Masdar project.

Who will provide the consultancy services for such a plant?
We are working with Masdar and are in negotiations with them to appoint them on the project. We expect to make some announcements in February. Masdar's carbon department will first assess the Gulf Extrusions plants in Dubai. From there, we will measure them and set that as a benchmark for the Abu Dhabi plant.

What has been the growth since inception?

Gulf Extrusions was established in 1976 and is a member of the Al Ghurair group of companies. The first extrusion took place in 1979 with an initial capacity of 5,000 metric tonnes per year. Today, we operate six production lines with a capacity of up to 60,000 metric tonnes a year. Our products caters to industries such as architecture, automotive, marine, street furniture and heating, ventilation and air conditioning. More than 60 to 70 per cent of the construction market in the UAE is supplied by Gulf Extrusions.

The company has also finishing facilities to colour the aluminium through powder and chemical methods. We have also invested in R&D, mainly in the automotive sector and are supplying to Jaguar, Range Rover and Honda.

You address the architectural and automotive sectors. What is the percentage break up of these industries within your portfolio?

Nine years ago, we took a strategic decision to diversify our production range and markets. We started with more than 95 per cent architectural applications and today we have brought it down to around 70 per cent of our business. We are aiming for 60 per cent architectural and 40 per cent non-architectural over the next few years.

In terms of architectural applications, what are your target markets within this region?

We supply to the GCC countries, the African markets and near East. We have also supplied to a landmark residential project by Mukesh Ambani in India and are supplying to projects in South Africa, Cyprus, and two of the tallest towers in London. We supplied to Burj Dubai as well. The Saudi market has grown and lot of UAE sub-contractors have started looking for jobs in Saudi and Qatar.

Have you changed your strategy in 2009?

We have stability in our growth since we have had an excellent strategy in the past nine years. Our involvement in the UAE was in the high-end markets. We had a Dh800 million turnover in 2008 and production stood at 50,000 metric tonnes.

What is happening on the Qatar front?

We have not yet decided on Qatar. We are studying the feasibility of the project and should decide by the first quarter of 2010 if we should go ahead or not. In 2008, we had started the construction of a new plant in Qatar, which was then part of an intensified expansion strategy to double the company's production to 100,000 tonnes in the next six years.

What lies ahead in 2010?

The industry in general will be facing difficulties because 99 per cent of its products are serving the construction industry. So when the latter is affected, the entire chain gets affected. In the UAE, due to extraordinary growth in the past many years, the market is suddenly witnessing a big deficit in demand, which is dropping by 20 to 25 per cent. It will drop by a further 10 to 15 per cent in 2010.

The Saudi and Qatar markets are stable. Lebanon, Syria and North Africa are growing due to a rise in population and hence these are solutions for the available supply within the industry. We have already taken measures years ago to reallocate some capacities from the market. Today, we have decided to supply finished products to the automotive industry on a turnkey basis. Prices should stay between $1,800 and $2,200 per tonne.

When did you take a decision to start seminars for architects?

Many companies are not aware of this industry. Hence, we decided to create an awareness seminar, especially in the African market and invited all players. We plan to host more seminars in 2010 in the UAE, Saudi, Qatar and Egypt.

I am also the president of Qualicoat, which is the first association related to the finishing of powder coated extruded aluminium profiles established in 2005. Gulf Extrusions played a major role in establishing it in Dubai. It is the second largest association globally after Spain.

Will you change your production capacity in 2010?

The plant in Dubai will operate at the same capacity. We are still deciding on Qatar. Abu Dhabi will come online in 2012. If the Qatar plant goes ahead, then we will have another 15,000 tonnes extra, else in Abu Dhabi, we have planned 50,000 tonnes, which will double our capacity.
Keep up with the latest business news from the region with the Emirates Business 24|7 daily newsletter. To subscribe to the newsletter, please click here.
Follow Emirates 24|7 on Google News.