No news on Aabar deal outcome before April 18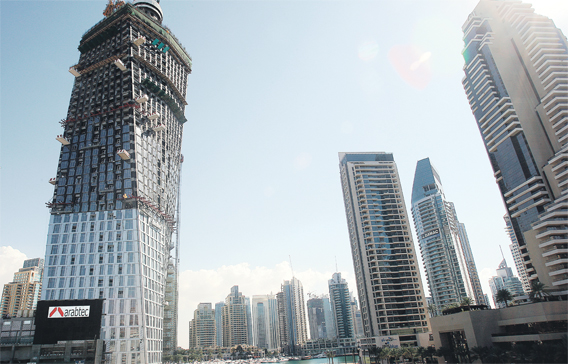 Arabtec Holdings expects to announce the outcomes of the Aabar Investments offer by April 18, said its CEO yesterday.
The firm will see some change in its board with the appointment of two new members when it convenes its meeting, Riad Kamal told Emirates Business.
It also expects to announce some awards on new projects and that its current order book status is "only the starting point for the year".
"The due diligence date with Aabar has been extended according to their request and we will announce when there is something to announce. At the moment, it stands at April 18 or earlier, if they want to take a decision earlier," Kamal said.
On February 28, Arabtec agreed with Abu Dhabi Government-controlled Aabar Investments to extend the due diligence process for an Arabtec stake to April 16, according to agencies. Aabar had offered to buy 70 per cent of Arabtec through the purchase of mandatory convertible bonds.
Arabtec gained the most yesterday in 2010 after it was upgraded by Al Mal Capital. The shares increased 11.64 per cent to Dh2.59, the highest since January 11, at market closing.
"We are continuously bidding for projects here in the UAE and overseas in Saudi, Qatar, North Africa, Angola and Syria. We are optimistic about whatever we announce today as our order book is only a starting point for the year and is not a rigid thing. In the near future, we are expecting to announce awards here and there on major projects," said Kamal who did not wish to elaborate on them.
Kamal is optimistic about the recent Dubai Financial Support Fund (DFSF), which will see trade creditors (contractors and suppliers) of Nakheel being offered 100 per cent recovery of their agreed claims with 40 per cent through a cash payment (based on agreed claims) and 60 per cent in the form of a publicly tradable security (based on current claim estimate amounts) at a commercial rate.
Each of Nakheel's individual trade creditors will shortly receive a cash payment of up to Dh500,000, according to the developer in a statement. "Half of the contractors by number have balances of up to Dh500,000 and therefore will have their balances settled in full," it said last week.
"It is too early to expect something in a matter of days. We feel that we shall hear from them in the next few weeks and maybe some action will be taken to fulfil what was announced recently. We had strong beliefs always in the capacity of the government to support them and we have not been let down in that belief," said Kamal.
An agency report on Thursday noted that Al Mal Capital upgraded Arabtec to "outperform", and said trade creditors, including contractors such as Arabtec, stand to benefit the most after Dubai announced it would recapitalise Dubai World.
"For Arabtec, at least 30 per cent of its outstanding Dubai receivables, or 21 per cent of the total receivables of Dh4.6 billion, is likely to find a favourable solution from Dubai World and its unit Nakheel," the Al Mal note said. It estimates that Nakheel owes Arabtec Dh1bn, of which the contractor is likely to get Dh400 million cash and Dh600m worth of tradable securities.
It remains cautiously optimistic for the payment of the remaining portion of the contractor's receivables due from Dubai Government-related entities.
The proposal improves the attractiveness of Arabtec as a standalone entity, Al Mal said, adding that the company could revisit the impending deal terms with Aabar hereon.
Meanwhile, the biggest construction company in the UAE, yesterday also announced the appointment of Henry Azzam and Ibrahim Hamati as members of its board, while retaining the current members, according to a statement on the Dubai bourse website.
"We feel we require more people on board. The appointment from within Arabtec, namely Hamati, is a good opportunity to bring in a breed of managers to share in the responsibility and that is something that we have been doing since going public," said Kamal.
"Azzam has very valuable experience in the governance of companies and we are very pleased that he has accepted."
He added that the designations of the new members will depend on how "the committees will be worked out with the members of the board and that will be done during the first board meeting that the board will convene".
On being asked whether there would be a board shuffle, Kamal said, "Definitely. That is the whole idea. There will be some members who would rather work on one committee or other."
Meanwhile, Arabtec has decided to delay bonus payment to board members, the company said in a statement to the Dubai bourse.
"It has been provisioned for and will be given as and when liquidity allows us to do so. The staff have been very understanding and as liquidity becomes available, the first people to get the bonus will be the staff who have been working very hard and been very patient as we have," he said.
"The Oktha project in Russia is still going ahead and we are optimistic about hearing about the main contract. We are working very closely with them on further investigations and site inspections. It is a strong indication of the seriousness of the project," said Kamal.
Aabar assets rise to $10bn
Aabar Investments, which has stakes in Daimler AG and Virgin Galactic, said its assets have grown to $10 billion (Dh36.73bn) and that it was eying more investments, agencies reported.
The Abu Dhabi- listed firm had an asset value of $625 million prior to state-owned International Petroleum Investment Company (Ipic) becoming the largest shareholder in Aabar.
"This value has grown in size since Ipic's investment in Aabar to about $10bn as Aabar has become, in the past 12 months, one of the most prominent and active investors in Abu Dhabi," Khadem Al Qubaisi, Chairman of Aabar, said in a statement. Aabar is looking at increasing its investments that could include sectors such as construction, aviation and financial services, he said
In January, Aabar had agreed to acquire a 70 per cent of Arabtec in a deal valued at about $1.7bn. "The Arabtec-Aabar deal continues to be weighed down by its dilutive impact, which we believe that Arabtec shareholders will now no longer find attractive," Al Mal had then said, which raised its price target on the stock to Dh3.20.
Follow Emirates 24|7 on Google News.