Sico revises Arabtec price downwards to Dh3.4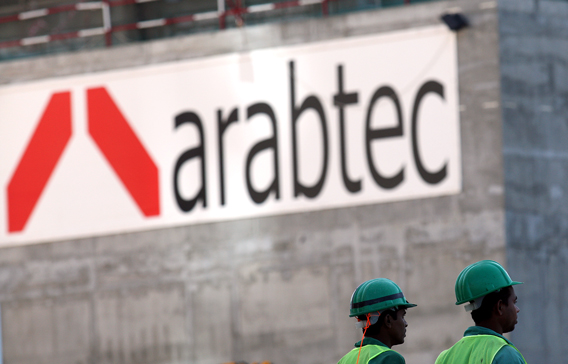 Sico has assigned a long-term 'buy' rating to Arabtec and revised the target price downwards by 24.4 per cent to Dh3.4 per share from Dh4.5 per share.
"The new target price accounts for slower growth, further provisioning and higher risks associated with Arabtec," Sico said while initiating a short-term 'neutral' rating on the stock.
"It has already rallied 27 per cent since the announcement of restructuring plans of Nakheel and Dubai World on March 25, 2010. We expect the stock price to be volatile in the short term," the firm added.
Sico had placed the stock "under review" on January 11 when Aabar first announced its intentions to acquire 70 per cent of Arabtec at Dh2.3 per share, as it expected this deal (if it had been concluded) to have "significant impact on valuations and future prospects".
Sico also noted that abandoning of the deal will have a positive impact where "the current shareholders' stake will not be diluted and the concern that Arabtec was being sold at very low valuations (Dh2.3 per share) will no longer weigh on the stock price".
However, the downside is that once again liquidity and working capital issues will resurface with the deal called off. The company had a cash balance of Dh634 million as of end FY09 against a debt of Dh957m. The key benefits of this all cash deal would have infused Dh6.42 billion into the company, which is no longer valid.
Again, the company's trade and other receivables declined by 6.1 per cent to Dh4.68bn year-on-year, primarily as a result of a Dh294m provision taken by the company in the fourth quarter of 2009. "We highlighted in our FY09 result update dated March 4 that receivables risk continues to be high for Arabtec based on its ageing profile. At year end, the company had Dh4.7bn in receivables, out of which Dh2.6bn was past due. Further delays in payment may well lead to higher provisioning by Arabtec, and increased liquidity risk," the report said.
Additionally, revenue growth will slow down to five per cent until FY12, according to the report.
"Current working capital concerns and increasing difficulty to easily raise performance bonds for large projects will adversely impact Arabtec's growth potential over the next two to three years. As it stands, we expect Arabtec's revenue to grow at a slower pace (by 4.8 per cent of CAGR) between FY09 and FY12."
The company's current backlog is estimated at Dh12.8bn.
"We expect Arabtec's backlog (excluding Russia) to total approximately Dh12.8bn as of 1Q10, which is 1.7x times its FY09 revenues," it added. "Recent order wins worth approximately Dh2.4bn in 1Q10 from Qatar, Abu Dhabi, Syria, Palestine and Dubai shows the company's ability to grow its order book by diversifying across the region.
Follow Emirates 24|7 on Google News.