UAE steel traders fear losses on global hike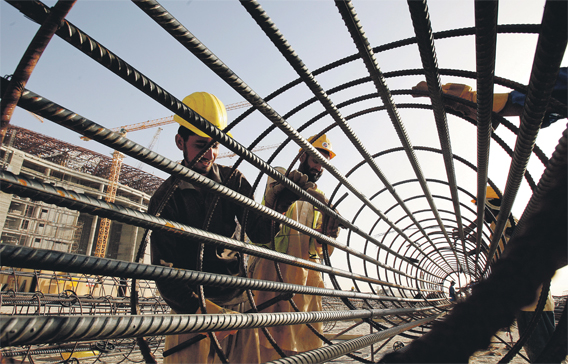 A sudden spurt in the price of iron ore in the international market has caught local steel traders and manufacturers and a host of other steel-dependent industries, off guard.
Emirates Business has learnt that the consequent increase in steel prices has singed many traders who were bearish about steel due to the slowdown in the construction sector and the overall economic downturn in the country.
In such a scenario, they are being forced to buy steel at higher prices prevailing abroad and sell it cheaply in the domestic market to honour existing contracts that were finalised a while ago when steel prices were low based on lower global iron ore prices.
Unlike in the past, when steel prices shot up mainly due to demand and supply factors, the reason for the current increase is the high iron ore price demanded by the major ore producers – Vale, the Rio Tinto Group and BHP Billiton – which together control about two-thirds of global trade.
Brazil's Vale, the largest iron ore supplier, last week broke a 40-year custom of selling ore on a yearly contract at a fixed rate and won a 90 per cent price increase from Japanese mills. Analysts are predicting a considerable increase in costs for steel-using industries and the automobile, construction and metals industries.
Rizwan Sajan, Chairman, Danube Building Materials, said the steel price has gone up by almost 30 per cent across the Gulf Co-operation Council (GCC) states over the last couple of weeks and the price per tonne of steel is Dh3,000 in the UAE, RO320 per tonne in Oman and BD300 per tonne in Bahrain.
"Most players in GCC steel markets – the steel mills, traders and the end users – have been caught on the wrong foot as they failed to anticipate that steel prices would gain momentum in this fashion. Since domestic demand was weak, people were under the impression that there was no scope for a surge in steel prices."
Due to depressed market conditions, the domestic steel price in the UAE is even lower than the metal's price in other Middle Eastern markets like Syria, Iran, Libya and Egypt, he added. In the short-term, the high international steel price will adversely affect local contractors, who are trying to stage a comeback after the Dubai World debt settlement.
Sajan expects a price correction within a few months, but says it is impossible to predict by how much. He added that all players in the steel supply chain were working on minimum stocks and now there was a shortage in the market.
"There is a general shortage in the market and overall availability is tight. This sudden, unexpected price hike is a further blow to steel traders. On one hand, we have orders from customers at very low rates while on the other, our present procurement rates from steel mills abroad are high. We are taking positions at $720 (Dh2,644) per tonne and we are not sure what domestic steel prices will be when these orders eventually arrive here," he said.
"In the event of a price crash, as in 2008, traders will incur heavy losses. We, at Danube, never speculate and have a scientific replacement model. We try to run parallel and as close as possible to international pricing."
Sajan added that Danube has opened a new office in Saudi Arabia to cater to that market. "Saudi Arabia had a ban in place on the import of steel but leading Saudi steel producers, including Sabic, could not meet ocal demand. Now the ban has been revoked and other regional players are looking at the Saudi market," he said.
A number of steel traders and manufacturers told this newspaper they expect prices to increase further, but many players in the steel supply chain are cautious about the market trend.
A large company facing pressure is RAK Steel, a joint venture of Ras Al Khaimah Investment Authority and the Middle East Traders Group, which is the second largest steel rebar-manufacturing mill in the UAE with a capacity of 500,000 tonnes per year.
Ajay Aggarwal, Chief Executive Officer, RAK Steel, said: "Steel prices have started going up due to high raw material costs and not due to any additional demand for the product. While prices continue rising, traders or manufacturers – the entire supply chain in fact – cannot absorb this price increase. They will have to pass on the high prices to end-users."
Meanwhile, other smaller traders are equally worried, if not more. A steel trader told this newspaper: "Steel prices have gone up by Dh1,000 per metric tonne MT) in a short period – from Dh2,000 to Dh3,000 per MT. The Middle East steel demand seems irrelevant to international steel price movements and, in the region, only the Saudi Arabia market is doing well because there are many new projects [coming up] there."
Scrap prices have shot up by $200 – from $220 per tonne to $420. "Everybody in the steel supply chain is scared to take on more stock. Not just steel traders, even steel mills and contractors have incurred heavy losses in the recent past due to a sudden decline in steel price from record highs because of the economic slowdown.
"Traders are now reluctant to keep huge stocks and people are buying only for a month's requirement. Traders who have taken orders from contractors for delivery in the next three months have to respect these orders and deliver steel at agreed lower prices even though they are now procuring the metal at far higher prices. Those who do not have such orders are playing it safe because there is no actual demand for steel. We don't know how long the current price trend will continue," said the trader, requesting anonymity.
In the present situation however, local manufacturers are gaining an edge over international importers. "The lead time to import from Turkey, India or Brazil is three months, while we can deliver steel within a month. Therefore many traders prefer buying steel from local companies," said Suraj Malhotra, Marketing Manager at Al Ghurair Iron and Steel. The company is a leading cold rolled and galvanised steel manufacturer. It said the current price movement has affected it minimally.
However, Malhotra said various industries using steel will see a 20 per cent increase in prices within the next two months.
"We export 30 per cent of our products to Saudi Arabia. Local steel manufactures have an edge now because our lead-time is only one month. Importers from India, China or Turkey will take at least three to four months to deliver and we don't know what the price will be after four months. Traders and contractors buying steel from local manufacturers don't have to wait for four months in opening letters of credit, shipping and other delays," he said.
Ramesh Narang from Al Rama International, a leading steel trader, said: "Prices have started going up because of international reasons. Local demand for steel is not great and Saudi Arabia is the only regional market that looks encouraging. As steel traders had a bad year in 2009, they are treading cautiously. The volume of steel trade through the Dubai Gold and Commodities Exchange (DGCX) has been very low recently."
Narang said he was positive about long-term trends in the steel market but payment defaults and liquidity problems continued to haunt steel and commodity traders. He added that banks were still willing to finance genuine steel traders.
Aneesh Saifudeen, Business Development Manager, Rainbow Engineering Industry, a fabrication company in Sharjah, said: "The steel price increase is a major concern for fabrication units because there is cut-throat competition in the sector. Demand is poor in the market and profit margins are between two and five per cent.
"Compared with the boom periods in 2006 or 2007, there are many players in the market now competing for fewer projects. In order to attract the maximum business, we are keeping our margins to the minimum and most clients are demanding lower prices," he added.
Saifudeen said there was an acute shortage of some steel products, like UB beams and gif beams, because steel traders were not keeping enough stocks.
"Some of the beams used in tankers and vehicle parts fabrication are not available in the local market. There is considerable delay in getting these products from abroad. There are no local manufacturers making these specialised steel beams and we have to depend on imports."
Rainbow Engineering Industry manufactures or fabricates all kinds of heavy vehicle bodies such as high-pressure vessels, condensers and storage tanks.
Steep ore forces UAE steel plants to defer expansion
The high cost of iron ore in the international market could adversely affect expansion plans of steel manufacturing units in the country, delivering a double whammy after the deflation in steel prices caused earlier by the global economic downturn.
Expansion plans at two leading steel mills in the UAE are on hold due to the sharp decline in demand for steel on the back of the global economic slowdown.
RAK Steel, a joint venture of Ras Al Khaimah Investment Authority and the Middle East Traders Group, and the second largest steel mill in the UAE, had plans to increase production capacity of deformed steel reinforcement bars by 50 per cent to 750,000 tonnes by the end of 2009. The plant currently has a capacity of 500,000 tonnes of deformed steel reinforcement bars.
Ajay Aggarwal, Chief Executive Officer, RAK Steel, told Emirates Business: "The expansion plan is on hold as of now. We have the machinery in place but it is not been installed as yet."
Earlier, the company had announced plans for a 50 per cent expansion in steel production in view of mounting steel demand in the UAE's construction industry. It had announced a $165 million (Dh606m) investment in production for the domestic market, which is now largely served through imports from Turkey and other steel producing countries.
Al Ghurair Iron and Steel has also scaled back its original expansion plans for hot rolled (HR) steel due to the economic slowdown. Suraj Malhothra, the company's Marketing Manager, told this newspaper that the HR project was part of the original project feasibility studies. "We have a CR and galvanised steel plant. Instead of going in for an HR plant we are doubling our galvanised steel production from the current capacity of 20,000 tonnes per month. Awarding the contract for the plant will now be delayed until the fourth quarter of 2010."
Expansion is to be scaled down from the original plan, which according to some reports was worth $100m. The company's iron and steel complex, located on a one million sq ft plot in Abu Dhabi's Mussafah industrial area, was to produce 350,000 tonnes of HR, pickled and oiled steel products, of which 50,000 tonnes were of saleable cold-rolled full hard steel and 200,000 tonnes were of galvanised material.
Follow Emirates 24|7 on Google News.